"Within a week of Eisenhower's election he had appointed Nelson Rockefeller chairman of a Presidential Advisory Committee on Government Organization. Rockefeller was responsible for planning the reorganization of government, something he had dreamed of for many years.
New Deal programs went into one single cabinet position called the Department of Health, Education and Welfare. When the Congress approved the new Cabinet position in April 1953, Nelson was named to the post of Undersecretary to Oveta Culp Hobby.
FDA and ivermectin – YouTube Please click on link and video.
WHO, EU/US Please listen to the video till the end very important.
4-5 billion doses used every year world wide and the maker/inventor use for humans.

"In 1953 astronomers discovered large objects in space which were tracked moving toward the Earth. It was first believed that they were asteroids. Later evidence proved that the objects could only be spaceships (perhaps hollowed-out asteroids from the asteroid field between Mars and Jupiter? – Branton). Project SIGMA intercepted alien radio communications. When the objects reached the Earth they took up very high geosynchronous orbit around the equator. There were several huge ships, and their actual intent was unknown. Project SIGMA and a new project, PLATO, through radio communications using the computer binary language, were able to arrange a landing that resulted in face- to-face contact with alien beings from another planet. The landing took place in the desert.
The movie, 'CLOSE ENCOUNTERS OF THE THIRD KIND' is a fictionalized version of the actual event. Project PLATO was tasked with establishing diplomatic relations with this race of space aliens. A hostage was left with us as a pledge that they would return and formalize a treaty.
"In the meantime, a race of humanoid (Nordic-Blond? – Branton) aliens landed at Homestead Air Force Base in Florida and successfully communicated with the U.S. government.
THIS GROUP WARNED US AGAINST THE RACE ORBITING THE EQUATOR AND OFFERED TO HELP US WITH OUR SPIRITUAL DEVELOPMENT. THEY DEMANDED THAT WE DISMANTLE AND DESTROY OUR NUCLEAR WEAPONS AS THE MAJOR CONDITION. THEY REFUSED TO EXCHANGE TECHNOLOGY CITING THAT WE WERE SPIRITUALLY UNABLE TO HANDLE THE TECHNOLOGY WE ALREADY POSSESSED.
THESE OVERTURES WERE REJECTED on the grounds that it would be foolish to disarm in the face of such an uncertain future. There was no track record to read from. IT MAY HAVE BEEN AN UNFORTUNATE DECISION.
"A third landing at Muroc, now Edwards Air Force Base, took place in 1954. The base was closed for three days and no one was allowed to enter or leave during that time. The historical event had been planned in advance. Details of a treaty had been agreed upon. Eisenhower arranged to be in Palm Springs on vacation.
On the appointed day the President was spirited to the base. The excuse was given to the press that he was visiting a dentist. Witnesses to the event have stated that three UFOs flew over the base and then landed.
Antiaircraft batteries were undergoing live-fire training and the startled personnel actually fired at the crafts as they passed overhead… the shells missed and no one was injured (Note: These three craft were apparently from the orbiting "gray" craft that the 'humanoids' warned the government about.
This 'meeting' apparently resulted in one of the major 'U.S. government – Gray' treaties. The fact that the startled gunners failed to destroy the alien ships may have been unfortunate, as such an event might have led to an abort of the so-called 'treaty' deal with the grays – Branton).
"President Eisenhower met with the aliens on February 20, 1954, and a formal treaty between the alien nation and the United States of America was signed. We then received our first alien ambassador from outer space. He was the hostage that had been left at the first landing in the desert. His name was 'His Omnipotent Highness Crilll or Krilll,' pronounced Crill or Krill. In the American tradition of disdain for royal titles he was secretly called 'ORIGINAL HOSTAGE CRILL, OR KRILL.' Shortly after this meeting President Eisenhower suffered a heart attack (the judgement of God?).
"Four others present at the meeting were Franklin Allen of the HEARST NEWSPAPERS, Edwin Nourse of BROOKINGS INSTITUTE, Gerald Light of METAPHYSICAL RESEARCH fame, and CATHOLIC BISHOP MacIntyre of Los Angeles. Their reaction was judged as a microcosm of what the public reaction might be. Based on this reaction, it was decided that the public could not be told. Later studies confirmed the decision as sound.
"An emotionally revealing letter written by Gerald Light spells out in chilling detail: 'My dear friends: I have just returned from Muroc. The report is true — devastatingly true! I made the journey in company with Franklin Allen of the Hearst papers and Edwin Nourse of Brookings Institute (Truman's erstwhile financial advisor) and Bishop MacIntyre of L.A. (confidential names for the present, please). When we were allowed to enter the restricted section (after about six hours in which we were checked on every possible item, event, incident and aspect of our personal and public lives),
I HAD THE DISTINCT FEELING THAT THE WORLD HAD COME TO AN END WITH FANTASTIC REALISM. FOR I HAVE NEVER SEEN SO MANY HUMAN BEINGS IN A STATE OF COMPLETE COLLAPSE AND CONFUSION, AS THEY REALIZED THAT THEIR OWN WORLD HAD INDEED ENDED WITH SUCH FINALITY AS TO BEGGAR DESCRIPTION. THE REALITY OF 'OTHER-PLANE' AEROFORMS IS NOW AND FOREVER REMOVED FROM THE REALMS OF SPECULATION AND MADE A RATHER PAINFUL PART OF THE CONSCIOUSNESS OF EVERY RESPONSIBLE SCIENTIFIC AND POLITICAL GROUP.
During my two days' visit I saw five separate and distinct types of disk handled by our Air Force officials — with the assistance and permission of the Etherians!
"'I have no words to express my reactions. It has finally happened. It is now a matter of history. President Eisenhower, as you may already know, was spirited over to Muroc one night during his visit to Palm Springs recently. And it is my conviction that he will ignore the terrific conflict between the various 'authorities' and go directly to the people via radio and television — if the impasse continues much longer.
FROM WHAT I COULD GATHER, AN OFFICIAL STATEMENT TO THE COUNTRY IS BEING PREPARED FOR DELIVERY ABOUT THE MIDDLE OF MAY.'
"We know that no such announcement was ever made. The silence-control group won that day. We also know that two more ships, for which we can find no witnesses, either landed sometime after the three or were already at the base before the three landed. Gerald Light specifically states that five ships were present and were undergoing study by the Air Force. HIS METAPHYSICAL EXPERIENCE IS EVIDENT IN THAT HE CALLS THE ENTITIES 'ETHERIANS.' Gerald Light capitalized 'Etherians,' calling attention to the fact that these beings might have been viewed as gods by Mr. Light (Something which the saurian "Grays" etc., apparently wished all humans would believe, and we're sure "His Omnipotent Highness Krill" would agree – Branton).
As introduction please have a look at this testimony of a CIA whistleblower first.
Our Hidden powers
Some of these Alien civilizations are trying to warn us about what is going on. and offering information/insight knowledge about our current position and why real information by our governments and the cabal/Free Masons is not forth coming. We the surface based part of humanity kept in the dark and on purpose.
This information is taken from a group calling themselves Human allies. Their are others as well.
Humanity has a strength that it has not yet realized, a strength that can offset the Alien Intervention, a strength that will give humanity a greater promise and a greater power in the universe. This is an unseen strength. It is a strength that once experienced becomes an essential force in directing one's life and in providing one's true power and security.
This power is called Knowledge in the universe. It is the power to see, to know and to act with clarity and certainty.
It is a power that is beyond persuasion and manipulation from any foreign source or from any other source. It is a power that is given as a potential to each individual within the human family and beyond.
In the Greater Community, religion ultimately becomes the study and application of The Way of Knowledge, for this is what is most translatable in religion.
Local customs, local teachers, local history does not translate from one world to another but they are now trying to destroy on earth or the cancel movement. Only that which is essential in the study and the practice of the awareness of the Creator and the Creator's great endowment of Knowledge to the individual is translatable.
Only in worlds where individual freedom is valued and supported is Knowledge a true emphasis and a true goal, not only for the individual but for the nation at large.
That is why Knowledge is feared and avoided in nations where there is no individual freedom because the power of Knowledge can stimulate individual creativity, individual dissent and individual differentiation from the will and the direction of the group. It is this freedom and creativity that give your life its dynamic qualities, its power and its potency. This enables an individual to fulfill their destiny in the world.
The cultivation of Knowledge is rare in the universe because freedom is rare in the universe. The Way of Knowledge is studied in secret in many worlds and nations where freedom is discouraged or is not allowed. It is most potently expressed in free nations, where it is seen as not only the avenue to personal fulfillment and contribution, but also as a source of power in the mental environment—a power that can be used to protect a free race from foreign intrusion and intervention.
Humanity does not yet realize how much strength it truly has and the advantages that you have because your religions have been maintained and have not been replaced by a belief in technology. They have not been completely subjugated to the political agendas of ruling nations. Though there has been much corruption, we understand, the power and the presence of Knowledge in humanity remains strong, and its potential for the future is greatly encouraging.
If this Knowledge were not present and were not accessible to human beings, then our message of warning, encouragement and hope would be of no purpose. We are speaking to this Knowledge within you and within all human hearts. It is not ideas that we are presenting as much as the recognition of reality and the preparation that humanity must undergo to prepare for its future in the Greater Community. For your destiny is there, and your success and your failure will occur within the context of the Greater Community.
Knowledge represents a deeper voice. It is how the Creator will speak to you—to guide you, to protect you and to prepare you. It is completely free from interference, persuasion and manipulation. It represents the core of your strength and your most powerful asset. Any action you may take to preserve humanity's freedom would in the end prove to be unsuccessful if Knowledge did not accompany it.
This is one of the reasons again why the wise remain hidden, for they have the power and the presence of Knowledge. The Intervention does not know of this Knowledge and does not use it, and therefore it represents your greatest strength. But the awareness of Knowledge must be cultivated.
The need for Knowledge must be recognized, for your individual intellect cannot compete with the power of the group mind that exists in the Greater Community. Yet Knowledge within you is immune from its influence and can see through its deceptions.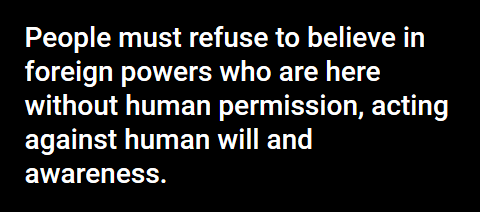 The strength of your ideas and beliefs are weak compared to those that are held firmly by many minds in the Greater Community. But the power of Knowledge is stronger. It cannot be turned. It cannot be betrayed. It cannot be altered by any power in the universe. Only the Creator of all life can speak to it, and only to this does it listen.
Knowledge within you is united with Knowledge within others. So as Knowledge becomes stronger in the human family, war and conflict will lose their appeal and attraction. As Knowledge becomes stronger in the human family, offers of foreign technology and foreign governance will lose their appeal. To Knowledge, they will mean nothing. All those things that influence people to harm themselves, or to engage in activities that are not in their best interests, will lose their appeal in the face of Knowledge, this deeper power.
Not all human beings need to find this power, but many do. Otherwise, the Intervention will go unimpeded.
The governments will hide what they know, struggling within themselves in how to deal with this presence and its intentions, and the people of the world will remain self-obsessed and ignorant, unaware of the greater threat to their future and their freedom.
Planet Earth.
You are living in a world of tremendous natural diversity and biological resources. Those who are intervening in your world today are not interested in the resources that you hold most dear. They are interested in biological resources, particularly those resources that represent the building blocks of life—genetic agents, chlorophyll, blood and plasma. These are the things that are valuable and are greatly needed in a universe full of barren worlds. Some of this represents illegal trade, trade that is not allowed for ethical reasons, but trade that exists nonetheless.
Rare metals are also sought here—metals that you are aware of and metals that you are not aware of. These things must be mined with human assistance. Anything that a foreign race seeks to do in this world must have significant human assistance.
Interbreeding.
This is because of the biological barrier that this world presents to the universe and to those races who have evolved in sterile environments, who are not adapted to be in biological, terrestrial environments such as this. Because worlds such as this are very rare, there are very few races in the universe who have this adaptation. That is why the native races must be cultivated and genetically aligned with the intervening races. It is a time-consuming process, but the results are believed to be worth it by those who are engaging in such activities.
The intervention.
We must speak on the Intervention that is occurring in your world in light of the three requirements for freedom. First, you must see that intervention is part of nature. It is bound to occur. It is destined to happen. Anyone who has power in the universe must face the risk of intervention, competition and intrusion. Anyone who has gained an advantage in any way—technological advantage or rare and valuable resources—will have to face the problem of intervention and competition in the universe. It is a universal problem, and that again is why the wise remain hidden. That again is why humanity must learn to be extremely discreet.

The Intervention is of two kinds. There are resource explorers, which nearly always represent one race, operating with great freedom and impunity, which are clients of larger powers. Sometimes, they are clients of independent trading networks that are engaged in illegal trade. Those resource explorers who have been in your world and who are in your world today represent members of this group.
Collectivists & alien agenda. (Cabal/deep State/Banks/NWO/WEF and UN.)
Then there are Collectives, who are multi-racial, hierarchical and very well organized. Their worker classes are bred for specific purposes, and they are involved in collective breeding, which is a practice not all advanced races are engaged in. The Collectives seek a more permanent residence in this world. They seek it as a world that either they or their clients could own and govern from afar, with human assistance.
Dulce New Mexico and other underground research facilities.
That is why such great care has been taken to study human psychology, human physiology and your reproductive process, as well as the biological hazards that exist on Earth. That is one of the reasons that plant samples have been taken and the world has been observed for such a very long time.
Under need are some important stake holders part of this monopoly; are-Rothschild family-Du Pont family-Rockefeller family-Carnegie family-Orsini Family-American Bush family-British Royal family. Behind much of the events and the decisions are several foundations causing and ferment chaos in our world; the world Bill and Melinda Gates foundation Soros Open Society foundation Clinton foundation These foundations are instrumental for geopolitical destabilization. Chaos which helps & good for business and power acquisition.
It is perhaps surprising for you to realize that an advanced technological race would have difficulty adapting to your world, believing that their science and medical technology would have overcome the difficulties involved here.
But, alas, so great are these difficulties that there is no race who has evolved in sterile or near sterile environments that could easily withstand the biological agents that exist here. Even the illnesses of your animals could affect them. So great is this hazard that in recent history few races have attempted colonization of this world.
But now the Collectives see an advantage, for humanity has built networks that they can use—worldwide communications, worldwide resource extraction and a sufficient level of technology that can, at a basic level, interface with what they use and rely upon.
Humanity is also developing greater sources of destructive power, and should this power be fully cultivated, then interventions such as this kind would be more difficult to attempt.
Lastly, there is the deterioration of your natural environment, which is threatening many of the very resources that the Intervention seeks. That is why the Intervention has gone into its mature phase in the last half century, an accelerated phase involving four fundamental activities: the attempt to persuade certain individuals in positions of power in government, commerce and religion; to establish a physical presence and familiarity within the world itself; to influence religious views and tendencies, which also includes the promotion of human conflict; and the program of hybridization to establish adapted beings in a human form who are allegiant to the Intervention and who can assume greater governing powers here in the world. These four interrelated programs represent the activities of the Collectives.
A weakened humanity will be vulnerable to persuasion, and a weakened humanity will be more likely to respond to offers of technology, to offers of assistance in governance and to offers of becoming connected to trade networks that already exist in the universe.
If humanity declines, it will be hard for either your leaders or your peoples to turn down offers of technology and resources that will be provided for you—offers that will surely undermine your self-determination and make you dependent upon networks of trade, commerce and power over which you will have no influence or control.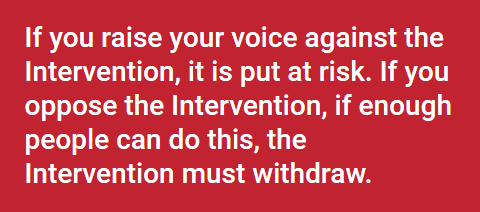 These activities are not evil in the sense that you might think. They represent competition, and competition is part of nature. If you are to be powerful, others will compete with you. If you possess wealth, others will compete with you for this wealth. If you misuse the world, others will seek to take advantage of this for themselves. And if you remain divided, others will try to use that to their advantage.
Yet this all represents deception, for the Collectives actually seek to increase human conflict, to weaken the strongest worldly powers and to gain allegiance through human failure—allegiance and a reliance upon their presence. Their interbreeding program is not only to establish individuals in positions of power, but also to condition and to program those that they take to become the Intervention's representatives and apologists—those who will promote the Intervention and the peoples of the world having direct access to these intervening powers, bypassing their governments, bypassing human authority figures, in order to establish direct contact with those forces who are conditioning people to believe that the Intervention is here on their behalf.
It is a clever approach and well conceived, and so far it is progressing with very little human resistance. Even the governments of the world have been seduced in many ways. They have made contracts with the Intervention which the Intervention has violated, and now there are those within the governments of the world who are aware of the Intervention and who support it, and there are those who are aware of it and who oppose it. So the seeds of conflict and opposition have even been sown within the corridors of power within your nations' governments, many of them.
The Intervention is being carried out by physical beings who are driven by the same needs that drive humanity—the need for resources, the need for power, the need for wealth and the need for strategic advantage. It is these very things that drive all nations in the universe. You must not regard these beings as evil or demonic or as angelic. They are beings driven by the same needs that drive humanity.
It is important now that we address the question of how the Intervention is functioning within the context of the three primary requirements that humanity must meet and must utilize in order to become a free race in the universe. The Intervention does not value freedom. It is unknown amongst its participants. It will, therefore, seek to oppose or undermine any progress that humanity will attempt to make regarding these three fundamental requirements.
A foreign agent here would need only encourage you to do what you have been doing all along—for practical reasons, to maintain wealth and power, to maintain your nation's stability and to maintain its predominance over other nations. These agents will provide this advice to your leaders, and especially to the leaders in commerce, who always will seek profit and advantage.
Since the Intervention represents commercial forces, they are particularly focused on aligning themselves with human commercial forces in your world. Here they share a common purpose and many common methods, and they can appeal to individuals who have this focus and this intent. Who amongst the powerful and the elite in your commerce and trade within this world could refuse the offer of advanced technology and refuse the offer of proprietary rights to something that none of their rivals possesses? Who could refuse the opportunity to engage in trade and commerce with powerful forces beyond this world?
Leaders in commerce are not accountable to the public, to the people of your world. They are not scrutinized. Their positions are secure. They do not need to win public favor in order to proceed in their search for power. Who amongst them will refuse the offers of advanced technology and trade with other nations and the wealth, power and advantage that such engagements might promise?
Even your religious leaders will be encouraged to align themselves with the Intervention. They will be encouraged to believe that the Intervention represents advanced life forms, morally and ethically advanced, beyond anything that humanity has established, and that humanity must turn to them now for inspiration and for guidance.
These religious leaders will be led to believe that the Intervention is here as an act of providence, an act of God, to safeguard humanity and to assure its future. It is their beliefs and their emphasis that will be exploited here, for they are not able to see clearly and discern the meaning and the reality of the Greater Community.
Amongst those who are rebellious and who seek to foster revolution, the Intervention will give them inspiration. It can whisper in their minds, it can present images in front of them—images of their saints, images of their gods, images of the righteousness of their cause. Those individuals who cannot distinguish a Greater Community presence from a spiritual manifestation will not be able to resist. Now they will feel they have divine will and support for their political goals. Now they will feel justified in taking any action, no matter how destructive, in order to fulfill their beliefs and their sense of justice.
None of these inspirations comes from a divine source, for the Creator of the universe would never support human conflict. But for a conflicted race of beings living in a beautiful world that is valued by others, this conflict represents a critical advantage to an intervening force. Here a much smaller force can overwhelm a much greater force.
CABAL/Free Masons 33plus & Alien connect.
Leaders in commerce are not accountable to the public, to the people of your world.
They are not scrutinized. Their positions are secure. They do not need to win public favor in order to proceed in their search for power. Who amongst them will refuse the offers of advanced technology and trade with other nations and the wealth, power and advantage that such engagements might promise?
Politics
This is the nature of deception that is placed upon a weak and divided humanity—a deception generated by several competing groups of economic Collectives who seek to have advantage here. Such activities and deception have been used by humanity as well, so these are understandable to you. Technology only aids the Intervention in remaining hidden and in giving it certain powers over people's physical response to their presence. But it is the power of persuasion in the mental environment, the power of making people think what the Intervention wants them to think, to feel what the Intervention wants them to feel and to do what the Intervention wants them to do that represents its greatest strength and advantage here.
The Intervention cannot use force, and it is not a military presence, so it does not have this capability. It will use its greatest strength, which is the power of persuasion, and it is using this to great effect. It has not won its objective yet. It has not achieved its goals yet. But every day the Intervention grows stronger. Every day its influence becomes more pervasive. Every day its effort to pacify human resistance and to direct human activity increases. For it seeks to pacify those who would resist it and to encourage human conflict at the same time.
The Intervention is here to encourage the loss of faith in human leadership and human institutions. It is here to strengthen its presence as the saviors of humanity. Whether the reins of power would be given to it publicly and visibly or whether it would occur behind the scenes, the Intervention needs tremendous human assistance and support. It must do this to satisfy those who are watching its presence here from afar, and it must do this to gain ascendancy in the world without destroying the world's resources or endangering their ultimate goals here.
You have the power to resist this. You have the power to resist this and many other forms of intrusion that will be attempted in the future. Humanity does not know its own strength, and that is why it is so vulnerable. Humanity does not recognize its advantage in living in a highly populated region of space where military conquest is not allowed and where war and violence are rare. You do not realize the advantage this gives you. If you raise your voice against the Intervention, it is put at risk. If you oppose the Intervention, if enough people can do this, the Intervention must withdraw.
Other attempts will be made in the future, for the world is a prize, and humanity is part of the value of the world for those who seek to have it for themselves. This is the nature of life in the universe. The advancement of technology does not override these tendencies. It does not eliminate corruption and deception. It makes the acquisition of resources more urgent and more difficult to accomplish. And it makes worlds such as yours, which contain such a wealth of biological materials, amazingly valuable to other races who seek to use these things and have access to them for themselves.
Surely, you must know and understand that if you have power and wealth in the universe, there will be competition. Only if you believed that you were truly alone and isolated in space could you think otherwise. But you are not alone, and you are not isolated. Now that you have gained a certain degree of technological ability and have built a technology for others to use, the motivation for intervention will become stronger, and the attempt to gain human allegiance and to gain the reins of power will be invested in greatly.
Humanity has the power to offset the Intervention, to build a boundary between itself and the universe and to establish its own rules of engagement regarding who may visit here and under what circumstances visitation may occur. You have not assumed this power, but it is there for you to assume, and assume it you must. It is this emphasis and humanity's overall vulnerability that can create a sufficient motivation for human unity and cooperation to be established at a greater level.
Humanity must establish unity, self-sufficiency and discretion. It must learn how to do this over time, using whatever resources are at its disposal. If human unity is to provide freedom in the future, it must be a unity based upon consensus and awareness and a Greater Community understanding.
The new monopolists or New world Order.
I think a great clue as to how men and women are contemplated by the State, (actually other men and women, as the State is just a legal fiction),is the Dept. of Human Resources. Are men and women just a resource? Is our only value set by what can be extracted from us by, (fishing, hunting, driving, business, etc.), fees of all sorts and form??? Remind me again the meanings of those much-maligned words "Freedom", and "Liberty".
The Tesla world/believe/quotes.
Nature now lost. Our fake manipulated world as a bad copy, as if we would need that.
Quotes tesla, Source: Tesla: Man Out of Time:
We have many a monument of past ages; we have the palaces and pyramids, the temples of the Greek and the cathedrals of Christendom. In them is exemplified the power of men, the greatness of nations, the love of art and religious devotion. But the monument at Niagara has something of its own, more in accord with our present thoughts and tendencies. It is a monument worthy of our scientific age, a true monument of enlightenment and of peace.
It signifies the subjugation of natural forces to the service of man, the discontinuance of barbarous methods, the relieving of millions from want and suffering.

Out of this war, WW" the greatest since the beginning of history, a new world must be born, a world that would justify the sacrifices offered by humanity.
This new world must be a world in which there shall be no exploitation of the weak by the strong, of the good by the evil; where there will be no humiliation of the poor by the violence of the rich; where the products of intellect, science and art will serve society for the betterment and beautification of life, and not the individuals for achieving wealth.

This new world shall not be a world of the downtrodden and humiliated, but of free men and free nations,
equal in dignity and respect for man.
Our virtues and our failings are inseparable, like force and matter. When they separate, man is no more.
There is something within me that might be illusion as it is often case with young, delighted people, but if I would be fortunate to achieve some of my ideals, it would be on the behalf of the whole of humanity.
If those hopes would become fulfilled, the most exiting thought would be that it is a deed of a Serb.
It has cost me years of thought to arrive at certain results, by many believed to be unattainable, for which
there are now numerous claimants, and the number of these is rapidly increasing, like that of the colonels in the South after the war.
The scientific man does not aim at an immediate result. He does not expect that his advanced ideas will be readily taken up. His work is like that of a planter — for the future. His duty is to lay foundation of those who are to come and point the way.
But among all these many departments of research, these many branches of industry, new and old, which are being rapidly expanded, there is one dominating all others in importance—one which is of the greatest significance for the comfort and welfare, not to say for the existence, of mankind, and that is the electrical transmission of power.
Nothing of this all instead, careful nurtured and embedded into Laws:
I know,I know. "Get out of my country you commie,pinko, you," sez the state. Mere recognition of the problem can get you branded as a trouble maker or even "enemy of the state".
A publication called "Silent Weapons for Quiet Wars" said it best.
"Every living thing on earth requires energy. The only question is, who will control this energy?
Energy can be condensed as the unit of exchange,or,"money."
The State can't control you directly, so a little prompting gets us to sign on as surety for a quasi-corporation (corporations are creations of the State) in the form of a business name (ALL CAPS) and a T.I.N. (social security #).
As such an energy unit we provide a very nice life for those that would rather use the coercive powers of the State to assure their existence than face the scary day to day uncertainties God dictates for mankind.
Can we uncontract? I'm certain of it!!! Will soft, immoral, un-disciplined men, who have grown accustomed to sucking up your God given portion of energy and are even now seeking exponentially more, going to give it up without crying, screaming, and blaming you for all the troubles about to befall them?
History: earth and our now almost infinite physical universe is made from energy. Every single piece including interstellar vacuum.
Another thing you should not know:
Mars is a hollow planet, as are Earth and Jupiter. Planets created with material ejected from a star have hollow interiors. As a molten ball is thrown from the star and starts spinning away, it begins to cool. The centrifugal force of the globe spinning and moving at great speed pushes the molten interior to the sides, forming the crust of the planet. This, in turn, forces hot gases out of the poles to form openings at both ends. The molten core and gases that remain get trapped between the hollow interior and the plates below the crust of the globe. These are pushed out periodically in the form of volcanic activity.
The nexus point on any such globe is always at the 19th parallel of the planet. It is evident on Earth by the Hawaiian volcanoes, located at the 19th parallel; by the Mons volcano on Mars located at the 19th parallel; and at the red spot on Jupiter, also at the 19th parallel.
The geometry built into the monuments on Mars by the Sirians and Lyraen colonists explains about the 19th parallel through its geometric equations and measurements and this geometry is also replicated and contained within the Giza Plateau in Egypt.
Compare this to Richard Hoagland – still clue less to WHY dolmen like Giza and Cydonia are at tetrahedral latitudes. By modulating (adjusting) the spin rate of planets at tetrahedral hand holds – planetary spin comes into phase with zodiac spin – this self similar spin relation (implosive collapse) is critical to stabilizing gravity and therefore atmosphere.
The pyramids located at Crimea where build to stabilise the tectonic plates movement for example. Not only was there a banded life but also highly developed space going civilisations and ended abruptly due to the deluge.
The Rockefeller Plan For The BRICS New World Order, In Their Own Words
On this date in 1832 President Andrew Jackson vetoed the bill that would have re-chartered the Bank of the United States. Jackson, like Thomas Jefferson before him, was an adamant opponent of a national bank, believing such a bank would be inherently corrupt and would favor the interests of the rich. In his veto message Jackson wrote:
"It is to be regretted that the rich and powerful too often bend the acts of government to their selfish purposes. Distinctions in society will always exist under every just government. Equality of talents, of education, or of wealth can not be produced by human institutions. In the full enjoyment of the gifts of Heaven and the fruits of superior industry, economy, and virtue, every man is equally entitled to protection by law; but when the laws undertake to add to these natural and just advantages artificial distinctions, to grant titles, gratuities, and exclusive privileges, to make the rich richer and the potent more powerful, the humble members of society–the farmers, mechanics, and laborers–who have neither the time nor the means of securing like favors to themselves, have a right to complain of the injustice of their Government.
There are no necessary evils in government. Its evils exist only in its abuses. If it would confine itself to equal protection, and, as Heaven does its rains, shower its favors alike on the high and the low, the rich and the poor, it would be an unqualified blessing. In the act before me there seems to be a wide and unnecessary departure from these just principles…"
The image is a political cartoon purporting to show Jackson "slaying the many-headed monster" (the bank interests). The cane in his hand is labeled "Veto."
Andrew Jackson delivered his veto message against re-chartering the Second Bank of the United States one hundred ninety years ago today. Not until 1913 with the creation of the Federal Reserve would a new type of national bank come into existence.
Personal note: targeting the West/destruction. The need for one party one world government the end goal and and part of the drive for total control/ownership off basically anything being it material, life or children. The Alien very interested because they want to get ownership of parts of earth as well and such and being more specific Africa. Going step by stem and long term objective. The digital prison/currency the last part of it.
Decades before President George H.W. Bush introduced the "New World Order" (NWO) into the American vernacular, the Rockefeller family and their minions were making plans to expend America's post-World War 2 power to bring about such an order.
What did happen and now needed:
Is only the fast introduction of free energy devices can save us now and will add permanent energy to the grid without the usual pollution.
Things where made worse by introducing NAFTA, GATT, and other trade agreements, the transfer of production and manufacturing to the emerging nations and lowering trade barriers had many unexpected outcomes.
On top come the climate agreement where most (some 160 emerging nations essentially exempt from environmental pollution controls), under the Kyoto accords.
Resulting in electrical power needs and transport increases, and will increase further, due to the now increasing production and movement of goods and the building of factories and assembly plants.
Very limited pollution controls, able to burn lots of cheap coal. China alone but also others like India is building three big coal burning Electra producing plants every single week. They are now looking in awe/amusement how the West/US are trying to commit hara-kiri and trying strangulate themselves slowly, publicly/economically and with no end in sight. Their created climate catastrophe used to push for alternative green energy they control. (Banks, UN, NWO/WEF/Globalist also called monopolists and using fear)
The transfer of manufacturing and production to many of these nations was a transfer to essentially "slave labour" nations where workers have few if any benefits, are paid extremely low wages, work long hours, and have no unions or bargaining rights. The local politicians involved can usually be "bought" very cheaply or the State like is the case in China, so that there are also no effective government controls. This has set up a de facto return to the feudalistic capitalism of an earlier era when enormous profits could be and were extracted from the backs of impoverished workers, and government checks and balances were nil.
Some believe that in fact these organisations where set up for this very purpose it selves.
Some wonder/believe that NAFTA, GATT, and Kyoto were set in place for this very purpose it selves by the NWO/WEF-Globalists.
As the transfer builds for the next 20 years, it involves the extraction of perhaps $2 trillion per year, from the backs of these impoverished laborers. It would not appear accidental that Kyoto removed the costly pollution control measures from this giant economic build-up that would otherwise have been required. The end result will be increased pollution of the biosphere on never imagined grand scale while talking about Climate they manage and now control literally.
The only viable option is to develop systems which extract energy directly from the vacuum and are therefore self-powering. Fortunately, analogous open electrical systems far from thermodynamic equilibrium with the active vacuum are permitted by the laws of physics. Also Maxwell's equations, however prior to the arbitrary curtailment by Lorentz symmetrical regauging.
Behind the screen: May 8, 2022
In the course of researching Laurance Rockefeller for my last entry, "The Rockefellers Are The Founders Of The UFO Disclosure Movement – Why?,"
I came across a book titled Prospect for America: The Rockefeller Panel Reports:
…It was the product of a 1956 Rockefeller Brothers Fund effort known as the Special Studies Project, and it lays out the blueprint for the multilateral / multipolar New World Order that is currently materializing around us.
In the aftermath of World War 2 and the resulting formation of the United Nations (which the Rockefellers were instrumental in creating and funding), the Special Studies Project, directed by Henry Kissinger, was formed to carry out two apparent tasks:
1) to create an action plan to bring about the "elite's" long-sought world government within the existing postwar environment, and
2) to spin the agenda in such a way that it could be sold to the American people as being in their best interest.
Upon completion of their work, the Special Studies Project's various panels compiled their reports in an incomplete, sanitized, and heavily spun book, the above-mentioned Prospect for America. The book spells out how to sacrifice the national interests of the United States for…
…(from page 35)
To begin our journey through the Rockefeller plan for the NWO, let's start with their definition of the Old World Order (OWO).
The 13 Empires Of The Old World Order
From pages 163-164 of Prospect for America…
So after having consolidated power over most of the world through empire building, the Occulted Powers (OPs) faced a problem. Empires, by their very nature, are territorial, competitive and nationalistic, and are not amenable to submitting to outside control as would be required for world governance.
Clearly, these old structures would need to be demolished and replaced by newer, more malleable structures in order to finish the global consolidation. For this reason, the OPs fomented and financed the two world wars to break down the old empires and create international chaos from which a New Order could be birthed.
At the end of each world war, the OPs immediately planted the seed of global governance, but the seeds didn't germinate as expected…
…(from page 164)
De-spinning the last underlined statement, they are basically saying that the nations were insufficiently motivated to hand over sovereignty to the globalist institutions. So to overcome this lack of "shared aspirations," the OPs fostered the Cold War between the United States and the Soviet Union.
By threatening some nations with Soviet aggression and others with American aggression, they compelled the nations to band together and join sides for protection. The members of each side were then pressured to increase economic and defensive cooperation to fend off the menace of the other side.
Those who were programmed to believe they lived in the "people's (communist) world" cooperated to block aggression from the "imperialist world," and those who were programmed to believe they lived in the "free world" cooperated to block aggression from the "Soviet sphere"…
…(from page 180)
In the United States, people were programmed to believe that fending off the "Red Menace" was a matter of life and death…
…(from page 162)
But the Cold War, just like the current crop of engineered conflicts raging about us (ISIS, Ukraine, and the China Seas), was all about forcing nations into groups and groups into a world order. Once it had served its purpose, the Cold War was ended in order to allow the two sides to be merged under the NWO…
…from The New York Times. Here are some key excerpts:
>>> President Mikhail S. Gorbachev of the Soviet Union ended an exhausting transcontinental visit to the United States today with an appeal for a radically changed system of global alliances…
Rather than strengthening defense, he asserted, alliances of the future should be designed to foster an international unity that would "protect the environment, combat hunger, diseases, drug addiction and ignorance"…
The Soviet leader said his second summit conference with Mr. Bush had helped move the United States and the Soviet Union "toward a new world"…
"For a new type of progress throughout the world to become a reality, everyone must change," Mr. Gorbachev added. "Tolerance is the alpha and omega of a new world order." <<<
And as one would expect, Prospect for America offers a glimpse of what Gorbachev and Bush's New World Order will look like.
The New World Order
On page 26, we're told what the OPs and their globalist minions are hoping for…
Take note of how the passage says "combined so as to be able to deal with those problems that increasingly the separate nations will not be able to solve alone." Here they are telling us that they'll be purposefully creating increasingly difficult problems to compel the nations to accept the NWO. We've certainly been witnessing that, haven't we?
As for the NWO structure itself, we're told that it will "consist of regional institutions under an international body of growing [to the point of total control] authority." Elsewhere in the book, we're told that the NWO will also include functional structures for matters that require management beyond the regional boundaries. So let's delve deeper into how such a structure would look and operate:
1) At the top is the "international body of growing authority." Needless to say, this is…


…(from page 33) Also note this…
…(from page 35)
…(from page 189)
Here are the ten UN development regions…
And page 190 spells out how the regional arrangements will manifest themselves…
Free trade agreements, joint economic development institutions, exchange agreements — this all sounds very familiar, doesn't it? So when an East versus West propagandist tries to sell you the idea that the BRICS Development Bank or a Chinese/Russian currency swap deal demonstrates nations trying to free themselves from the New World Order, just remember this passage. Russia and China are following the NWO script to the letter, but I'll get back to this point a little later in the article.
…(from page 191)
One example of a functional arrangement is the BRICS alliance. It cuts across regional lines and gives form to the dialectic clash between Anglo-American bankers and BRICS bankers which will birth the NWO. Another example is the International Monetary Fund, which will manage the new global reserve currency after the engineered East versus West drama has climaxed.
With the planned structure of the New World Order laid before us, let's have a look at how the Rockefellers planned to get America to join in.
The NWO As America's Grand Objective
Prospect for America goes to great lengths to make the counterintuitive case that building a global government is in America's best interest. It starts by implying that nation-states are somehow outmoded by the fact that they trade with each other, and then it offers the false choice of floundering by engaging in no trade at all…
…(from page 60) or prospering by engaging in trade managed by the NWO…
…(from page 161) They conveniently fail to mention that there are many other options besides resorting to either of those two extremes.
Kissinger and Co. also make the assertion that building the NWO is the "grand objective" of America's foreign policy…
…(from page 26) and that the effectiveness of US policy will be judged by how well America fosters the globalist institutions…
…(from page 27) Also note how the passage assigns the US to the Western Sphere. The planners had another nation in mind to lead the Eastern Sphere (China).
The book then goes on to offer specific ways America can sacrifice its national interests to build the global government.
The Deindustrialization of America
On page 173, we see the genesis of the economic policies that have brought the American economy to ruin…
…as the globalists make the case for unilaterally removing the trade barriers that protected America's economy from competition with foreign slave labor.
Kissinger and Co. also make the case that we shouldn't economically defend ourselves since it might create "impediments… to the progress of others"…
…(from page 75)
And to give Americans a taste of what's coming, page 75 also drops this little hint…
…As it turns out, America did indeed lay itself down as a bridge to pull China into the NWO. We did it by luring them in with a great deal of our national wealth through lopsided trade and outsourcing.
And this brings us to the subject of the BRICS…
The BRICS Role In Erecting The New World Order
Prospect goes on to address the status of those nations that were "freed" by the engineered collapse of the Old World Order…
…(from page 164)
If we remove the spin from this passage, it tells us that the new nation-states' drive to achieve true independence must be "balanced by converging forces." And what form did these "converging forces" take? The globalists employed hot & cold wars and insurgencies, trade conflicts, and "economic hit men" to make life unbearable for any nation-state attempting to be independent. All this strife forced such nations to reach out to international institutions for "help" (which came in the form of military occupation or debt bondage).
Only in the arms of the globalist institutions would such nations find any peace…
…(from page 61)
When Prospect spoke on page 60 of what animates such peoples…
…it brought to mind something I wrote in an old article titled David Wilcock and the Real NWO, Part 2 of 2:
>>>Why China? Why would the Illuminati, whose home base is in Western Europe, have the Chinese front the public face of their New World Order?
A clue to their motivations and strategy can be found in this article, titled "Colonial Elite Rules China for the Illuminati." In it, the author states…
"The Chinese people would revolt against overt foreign domination, but embrace their place in the NWO if they believed they were in control."
The Chinese have suffered greatly at the hands of Western imperialism, as has much of the world. As a result, the Illuminati would have trouble roping many nations into a Western-led New World Order, especially the nationalistic Chinese. Since you can't have a truly global order without the most populous nation on Earth, the Illuminati opted to use their own legacy of destruction to their advantage. Their two-part strategy to do so is as follows:
1 – They set up a China-centered alliance as an opposing force to the Western alliance.
This part of the strategy was hinted at in the mainstream press in this 2002 UPI article, titled "China Wants Its Own 'New World Order' To Oppose US Version." It is common practice for the Cabal to use opposing forces to achieve their ends, and they always make sure they have influence or control over both sides.
2 – They have been driving the world public into the hands of the Chinese alliance.
How have they approached this, you ask?
> They have widely publicized a heinous New World Order planned by the Western Powers…


…while simultaneously publicizing a benign New World Order planned by China and its allies…
…thus establishing danger from one side and safety from another.
> They have instigated outrageous and provocative action, both economic and military, by the Western powers (this adds a new insight into the open-for-all-to-see Wall Street / City of London criminality and recent Western military boondoggles in Afghanistan, Iraq, Egypt, Libya, and Syria).
> They have broadly exposed damaging information about Western nations, especially the US. This is the motivation behind WikiLeaks, Snowden, and a thousand smaller disclosures. And after Snowden outed the NSA's activities to the general public, where did he run to hide? First to China (Hong Kong), then to Russia. So what is the psychological message? China and Russia (the BRICS alliance) are where you run for safety from the evil US, its Western allies, and all their horrible behavior.
It is really very simple: the Illuminati built a rabbit trap (in the BRICS alliance) that looks like a nice, safe hole to hide from danger. Now they are beating the bushes (with the Western powers) to drive the rabbits toward the trap.<<<
Clearly, the globalists took into account "the aspirations of peoples all over the globe… to emerge rapidly and conclusively from the era of colonialism" in their planning of the NWO. It is for this reason that the BRICS alliance was formed and the NWO was designed in a multipolar fashion. They want the oppressed peoples of the world to join together and see themselves beating the West. And they want them to believe that the Illuminati's multipolar New World Order represents their final victory over oppression and ascension to equality, when it is actually just the beginning of a new phase of subjugation and their fall into equality as global serfs.
With the Rockefeller plan for the BRICS New World Order laid out before us, let's take a look at how it was implemented.
China: Building up the False Savior
Major moves towards building the New World Order outlined in Prospect for America began in the late sixties…
1969 – The International Monetary Fund (IMF) introduces the Special Drawing Right, the planned replacement for the US dollar as the global reserve currency…


July 1971 – former Special Studies Project director Henry Kissinger held secret meetings in China to lay the groundwork for their introduction onto the global stage. Here he is with Chinese Premier Chou En-Lai (a.k.a. Zhou Enlai) during the visit…
August 1971 – President Richard Nixon takes America off of the gold standard…


…This was the first major explosion in the dollar's demolition as the global reserve currency (to make way for its replacement by the globalists' SDR sometime around 2018).
February 1972 – Nixon visits (and "opens") China. Here he is with Chairman Mao…


June 1973 – David Rockefeller Sr. visits China to start working out implementation details for what is to come. Here he is meeting with Premier Chou En-Lai…


So what was set in motion by these events? By 1978, Deng Xiaoping took power and "developed 'Socialism with Chinese characteristics' and Chinese economic reform, also known as the 'socialist market economy,' and opened China to the global market." An interesting view on the hidden dynamics behind this development is offered in the above-linked "Colonial Elite Rules China for the Illuminati" article…
"Wang Hao, a historian at the China Institute of International Studies, has recorded that Mao's deputy Zhou Enlai met David Rockefeller in June 1973:
'When meeting David Rockefeller, Zhou said to him that it was necessary to find appropriate methods conducive to the development of the trade between two sides under different political systems.'
The corporate-communist merger began when Deng Xiaoping came to power in the late 1970s and introduced his market reforms with the slogan 'to get rich is glorious.'
However, after 30 years of Maoism his regime was hopelessly ill equipped to run a market economy. They turned to the wealthiest Chinese tycoons in Hong Kong for guidance.
The most powerful HK tycoon is Li Ka-Shing, the richest Asian in the world and an Illuminati insider."
(For Fritz Springmeier's writeup on the Illuminati Li family, click here.)
This helped put in place a Chinese elite that "is a merger between the Communist leadership, Hong Kong tycoons, and the criminal Triads. All three factions derive their power from Illuminati collaboration."
Needless to say, globalist coordination with China…
…and their BRICS partner Russia…
…has continued unabated to this day.
In closing, I'd simply say that any global solution offered to us in the coming years is, in fact, a globalist solution. If you do not get together with your neighbors to start exercising self-sufficiency and control over your life, you will fall into globalist dependency and control by default. And if you do not get together with those in your local community to devise a currency (or other method of trade/barter) of your own, you will end up using bankster currency by default. Power that is not taken into your own hands is left to the predators who grasp for it.
[Update 1 – 11 November 2014]
In response to this comment from a suspected webtroll…
"How do you know that Putin isn't telling Kissinger, 'Buddy, your days are numbered.'"
…I looked up an old New York Times article I ran across a while ago…
So while the front page news has blaring headlines about the supposed conflict between West and East, you'll find the truth a little deeper in the paper: that all these political types work for the same bosses and are actually buddies behind the scenes. Don't be distracted by the public puppet theatre/drama.
Love always…
Reference: RedefiningGod.com
Use of the fear factor/origin nature and copy/replace!
Abuse of power by governments and institutions and failing in there protection of the electorate.

Ditch Google and Gmail Before It's Too Late
Google isn't just censoring information via its search engine – while about 50% of our subscribers are using Gmail accounts, the delivery rate is HALF of email providers like this one.

5 hr ago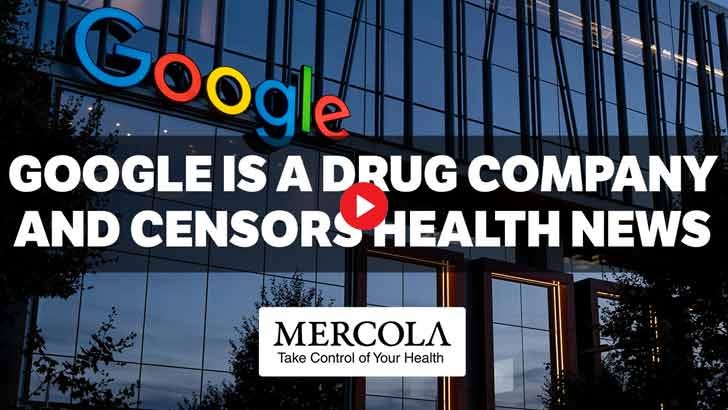 STORY AT-A-GLANCE
Many understand that Google is filtering and massively censoring information through its search engine, but it also has the power to censor in other areas, including your personal email if you're using Gmail
The technocratic cabal is pushing the world toward global tyranny, and Google is one of the primary supporters, aiders and abettors, of this scheme
Google catches every single move you make online if you're using a Google-based product. All Google products are interconnected, and the data from all their different products and services are collected to build your personality profile, which is both used to manipulate you, and sold to third parties to be used in whatever way they like
Google poses several unique threats to society. It's a surveillance agency with military connections and covert surveillance powers, it's a censoring agency with the ability to restrict or block access to websites across the internet, and it has the power to manipulate public opinion
Without Google, the technocrats' dream of a One World Government would likely never happen, as it relies on social engineering and artificial intelligence. Google is a frontrunner and expert in both, and has the ability to control entire populations

The fact that half of all people in the U.S. and around the world are still using Gmail as their primary email service is a testament to the fact that many still do not understand just how dangerous Google actually is, not just to their immediate privacy but also to their future freedom.
Many understand that Google is filtering and massively censoring information through its search engine. As you may recall, in June 2019, Google buried Mercola.com in its search engine update (see video above). They changed the algorithm such that whenever you entered a health-related search word into Google, our articles were filtered out.
But Google also has the power to censor in other areas, including your personal email if you're using Gmail. As previously reported by Gawker,1 "Every word of every email sent through Gmail and every click made on a Chrome browser is permanently recorded by the company."
Google Censors Your Gmail Inbox
Google's interference in your life is only going to increase, and if you're still using Gmail, why? You're exchanging convenience and cost for your privacy and you are getting the short end of the stick. Just imagine how your emails might be used to rank you in a Google-run social credit system, for example. Few of us are "pure as snow," but that isn't even the issue. The issue is that ANY view or opinion can and will be used against you. The last three years have certainly taught us that.
Equally concerning is the fact that Google can censor your email, and we have evidence that this is happening. While about 50% of our subscribers are using Gmail accounts, the delivery rate for Gmail accounts is HALF of all the email providers like ProtonMail — far lower than any other email service.
So, if you are using Gmail to receive our newsletter please change immediately. If you're using Gmail, understand that they're censoring your inbox, and you might not even realize it. I am certain that at some point in the not too distant future they will censor delivering ANY of our emails to Gmail accounts. It is just another clever censoring strategy they have.
Why would you want to use a service that censors information that you specifically opted into and want to receive? Aside from this newsletter, what else are they preventing you from receiving? If you're a subscriber, I strongly urge you to re-sign up with another email account — and cancel your Gmail altogether.
ProtonMail is an excellent alternative. It provides end-to-end encryption to protect your content and other user data. Proton also provides an encrypted calendar, encrypted cloud storage and free VPN.
Google — The Largest, Most Dangerous Monopoly in the World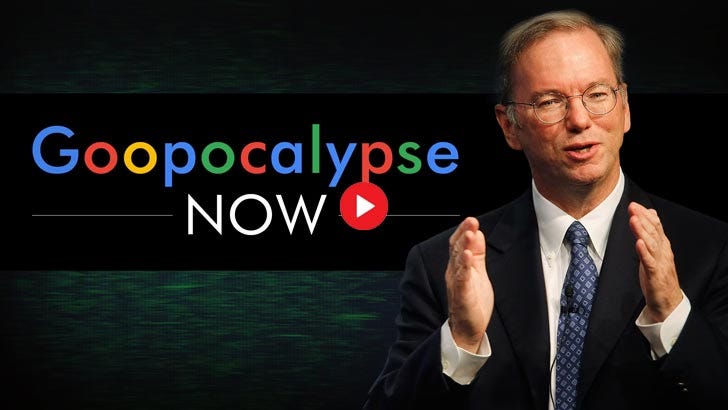 The technocratic cabal is pushing the world toward global tyranny, and Google is one of the primary supporters, aiders and abettors, of this scheme. Indeed, without Google, the dream of a One World Government would likely never happen, as it relies on social engineering and artificial intelligence. Google is a frontrunner and expert in both, and controls entire populations in ways we don't even fully understand.
Over time, Google has positioned itself in such a way that it's become deeply embedded in your day-to-day life. Every minute of every day, it's collecting data on everything you do, everywhere you go, everything you share, question and believe.
Google catches every single move you make online if you're using a Google-based product, be it their search engine, Google Docs, Google Wallet, Gmail, Chrome browser, Google Photos, Android Auto, Android TV, Gboard, Google Alerts, Connected Home, Chromebook, YouTube — the list goes on.2
All Google products are interconnected, and the data from all their different products and services are collected to build your personality profile. That profile is then sold to third parties. It's also used by Google to influence your thoughts, beliefs and behaviors using AI analytics.
Google is actually the world's leading AI company, having purchased Deep Mind for $500 million in 2014.3 The Deep Mind AI defeated the human Go champion in 2019,4 a game far more complex than chess. With this level of AI, it is not hard for them to sort through all your data with their deep learning algorithms and find patterns to exploit.
The 2013 article, "What Surveillance Valley Knows About You,"5 is an eye-opening read that describes just how grossly invasive this data collection and distribution is, and how dangerous it can be if you end up on certain lists sold to third parties. Make no mistake, capturing user data is Google's primary business.6 YOU are the real product being sold.
How Google Threatens Society
Google poses several unique threats to society, including but not limited to the following:
Google is a surveillance agency with military connections7 and covert surveillance powers — All Google products are surveillance platforms, and from Google's perspective, the value of these platforms is their ability to glean very precise data about you as an individual, such as your habits, thoughts, beliefs, likes and dislikes, health problems, and much more.One covert surveillance function is Google Analytics, which websites can use for free. You, however, pay for it with your personal data, which is what Google sells to third parties. Collectively, sites that use Google Analytics — and most are — steal an enormous amount of your private information, as it tracks everything you do on a website equipped with it.You have no way of knowing whether a website uses Google Analytics, though, so the surveillance occurs "in the dark," as it were.
Google is a censoring agency with the ability to restrict or block access to websites across the internet — The most crushing problem with this kind of internet censorship is that you don't know what you don't know.If a certain type of information is removed from search, and you don't know it should exist somewhere, you'll never go looking for it. And, when searching for information online, how would you know that certain websites or pages have been removed from the search results in the first place? The answer is, you don't.Google has also taken it upon itself to be an arbiter of "fake news," censoring information according to its own criteria of what is true or false. Needless to say, this also makes it really easy for Google to censor information that isn't in its own best interest.8As just one example, in 2017, Julian Assange revealed how YouTube was censoring former congressman Ron Paul — for promoting peace!9 As noted by Activist Post:10"What we are witnessing … is a move to silence the peaceful opposition … [T]his crackdown is also coinciding with a massive push by the mainstream media to stoke divide among the people … to create an atmosphere so divided that people never look up at who's controlling them."
Google has the power to manipulate public opinion — Simply by tweaking the search rankings, Google can manipulate people's opinions on a given topic.According to Robert Epstein, Ph.D., who has spent years exposing Google's manipulative and deceptive practices as a senior research psychologist for the American Institute of Behavioral Research and Technology, Google has the ability to shift voting preferences among undecided voters by as much as 63%, and the power to determine 25% of global elections — all without leaving a trace.This power to manipulate public opinion and an individual's behavior is what makes it such an effective social engineering tool.
Google Is a Key Player in the Coming Social Credit System
All of these powers combined — the ability to surveil and track every conceivable metric, censor and block access to information, and the ability to manipulate opinions — also makes Google an invaluable resource for the planned social credit system.
As reported by Fast Company,11 China's social credit system is not unique. "A parallel system is developing in the United States, in part as the result of Silicon Valley and technology-industry user policies, and in part by surveillance of social media activity by private companies," Fast Company writes.
For example, life insurance companies are already using content shared on social media to determine your premium. PatronScan is another example. These devices are used by restaurants to identify fake IDs and undesirable customers, people who have previously been kicked out of an establishment for one reason or another.
The list is shared among PatronScan customers, so getting banned in one bar or restaurant effectively bans you from all bars and restaurants in the U.S., Canada and U.K. for up to one year. Additional examples of the creeping social credit system can be found in the original Fast Company article.12
Google Is Everywhere
Another reason to assume that Google's continued success is crucial in the technocrats' quest to control the world population and impose global totalitarianism is the fact that it has already infiltrated most areas of daily life. For example, Google is involved in the following areas, and this is far from a complete list. Needless to say, personal data is also harvested from each and every one of these areas.
Childhood education — Many schools no longer use print books. Instead, all classwork is done on tablets or computers equipped with Google-based software such as Google Classroom, Google Docs and Gmail.13 Google Chromebooks (Google-powered laptops) became even more prevalent during the COVID lockdowns. Basically, no child could continue their education without one.As reported by Wired,14 high school students are now being spied upon by GoGuardian, yet another Google surveillance tool that allows teachers to see each student's screen and use AI to scan student emails and other documents. An alert is sent out to teachers and police if signs of violence or mental health problems are detected.Once the children are out of school, they're then encouraged to convert their school accounts to personal accounts, a move that allows Google to build incredibly powerful personality and marketing profiles of each individual from a very early age.
Health care — Google Health is involved in medical research and the expansion of AI in medicine,15 while its Google Cloud Healthcare Data Engine allows "health care and life sciences leaders to make decisions from disjointed health care data."16 Google also owns Fitbit, which gives it access to all of your physical fitness data. They're also working on portable medical diagnostics.17
Drug promotion — For example, in 2017, Google partnered with the National Alliance on Mental Illness and launched a depression self-assessment quiz — a test that funneled all respondents toward a drug solution.18 19Since then, Google and other tech companies have only gotten deeper and wider access to people's personal medical information, and Google sells this data to third parties, which can result in higher insurance premiums or denial of employment.
Genomics — Google is also a leader in the collecting of genetic data (which they're adding to their user profiles) and the development of genetic technologies. As reported on the Google Blog:20
"At Google Health, we're applying our technology and expertise to the field of genomics. Here are recent research and industry developments we've made to help quickly identify genetic disease and foster the equity of genomic tests across ancestries. This includes an exciting new partnership with Pacific Biosciences to further advance genomic technologies in research and the clinic."
On that list of developments are: "Helping identify life-threatening disease," "applying machine learning to maximize the potential in sequencing data," and "supporting more equitable genomics resources and methods."
The food industry — Google is also deeply embedded in the food industry with data management and AI services, and is ubiquitous in the restaurant space.21
Home security — Google recently bought part of ADT and is partnering with the home security giant for a variety of services.22 So, your ADT service will no longer be about home security, but rather more home surveillance.
Artificial intelligence — According to Google's dedicated AI site,23 "Our mission is to organize the world's information and … [solve] problems for our users, our customers and the world … AI … [is] providing us with new ways of looking at old problems and helping transform how we work and live, and we think the biggest impact will come when everyone can access it."Ultimately, the goal is to create self-learning AIs capable of imitating human thought processes. There are even proposals suggesting AI-enabled analytics systems could be used for "predictive policing" as illustrated in the 2002 movie "Minority Report," where suspected perpetrators are arrested before a crime is actually committed.A January 2020 article24 in The Intercept cited a 2018 document25 by the data storage firm Western Digital and the consulting company Accenture, "Value of Data: Seeing What Matters — A New Paradigm for Public Safety Powered by Responsible AI," which predicts smart surveillance networks may be deployed "across three tiers of maturity."The first tier is where we're at now, where law enforcement uses CCTV networks to investigate crimes after they've already occurred.At the second-tier level, predicted to be in place by 2025, municipalities will be transformed into fully connected smart cities where the cameras of businesses and public institutions are all plugged into a government-run AI-enabled analytics system. The third tier, predicted by 2035, will have predictive capabilities. As reported by The Intercept:26"A 'public safety ecosystem' will centralize data 'pulled from disparate databases such as social media, driver's licenses, police databases, and dark data.' An AI-enabled analytics unit will let police assess 'anomalies in real time and interrupt a crime before it is committed.' That is to say, to catch pre-crime."Mind you, Google claimed to have the ability to read your thoughts an entire decade ago. In 2010, Google CEO Eric Schmidt boasted, "We know where you are. We know where you've been. We can more or less know what you're thinking about."27Fast-forward 10 years, and Google's mind-reading capabilities have exponentially grown and been perfected to the point that their AI can predict the exact moment when a teenager is feeling insecure, lonely or vulnerable, so an advertisement for an image-boosting product can be placed in front of them on the screen in that moment.This and many other terrifying capabilities are detailed in the book, "The Age of Surveillance Capitalism: The Fight for a Human Future at the New Frontier of Power," written by social psychologist and Harvard professor Shoshana Zuboff.
Monopolies Threaten Democracy and Basic Liberties
Unfortunately, many still fail to see the problem Google presents. Its services are useful and practical, making life easier in many ways and more fun in others. That's the bait, and many have swallowed it hook, line and sinker, not giving any thought to the ultimate price paid for such conveniences, or simply underestimating the threat that all of this personal data collection poses.
If you fall into this category, I ask you to give this issue some serious thought, because monopolies threaten our very way of life, and in more ways than one. As explained by business journalist and former director of Open Markets, Barry Lynn:28
"[M]onopolies are a threat to our democracy and to our basic liberties and to our communities. Monopolization, this concentration of wealth and power, is a threat to everything that is America …

America today has a monopoly problem. We're seeing basically a second wave of consolidation and monopolization because of the digital revolution … The first issue is consumer protection and potential consumer harm. We created antitrust laws originally to protect our liberties, often as producers of stuff … My liberty to bring my wheat, my ideas, the product of my labor to market. That's liberty.

The second purpose was to protect our democracy against huge concentrations of wealth and power. To protect our democratic institutions. And the third purpose [was] to protect your community. If I'm living out in Peoria, do I want the city of Peoria to be run by a couple corporations based on Wall Street, or do I want it to be run by the citizens of Peoria?"
Google Is Paving the Way to Hell on Earth
Alphabet, the rebranded parent company that houses Google and its various divisions, has turned into an octopus-like super entity with tentacles reaching into government, food production, health care, education, military applications and the creation of AIs that may run more or less independently.
A key component of many of these enterprises is data — your personal usage data; the tracking of every webpage you've ever visited and every single thought you've ever written on a Google-enabled device, along with geo tracking tracing your every move.
"Today, being a conscious consumer includes making wise, informed decisions about technology. Google is by far the greatest personal data leak in your life, so boycotting all things Google can go a long way toward safeguarding your privacy and thwarting the technocrats' wicked plans for our digital imprisonment. It's time to realize that privacy equals freedom. In today's technology-driven landscape, you cannot be free unless you have privacy."
Ultimately, what can be done with that kind of information, besides personalized advertising? How might it be used in combination with military AI-equipped robots? How might it be used to influence your health care decisions? How might it be used to influence your lifestyle decisions? How might (or is) it used to shape politics and society at large?
Today, being a conscious consumer includes making wise, informed decisions about technology. Anyone who has spent even a small amount of time pondering the ramifications of Google's ever-growing monopoly over our day-to-day lives is likely to shudder at the possibilities and agree that we cannot allow this to continue. Google is by far the greatest personal data leak in your life, so boycotting all things Google can go a long way toward safeguarding your privacy.
Additionally, remember, the technocratic elite NEED your data in order to create a digital open-air prison. AI can't operate without it, and without AI, the social engineering attempt falls apart. Google is the primary data harvester out there, so, the easiest way to thwart their wicked plans is to STOP feeding them data.
How to Oust Google From Your Life
Truly, it's time to realize that privacy equals freedom. In today's technology-driven landscape, you cannot be free unless you have privacy. The two go hand in hand. So, don't delay. Start taking back your privacy and your freedom today by ditching any and all Google products, starting with Gmail.
Several of the most commonly-used Google traps are listed in the graphic below. In addition to those suggestions, here are a few more:
If you're a high school student, do not convert the Google accounts you created as a student into personal accounts.
Switch to a secure document sharing service — Ditch Google Docs and use another alternative such as Zoho Office, Etherpad, CryptPad, OnlyOffice or Nuclino, all of which are recommended by NordVPN.29 Digital Trends has also published a number of alternatives.30
Delete all Google apps from your phone and purge Google hardware.
Avoid websites that use Google Analytics — To do that, you'll need to check the website's privacy policy and search for "Google." Websites are required to disclose if they use a third-party surveillance tool. If they use Google Analytics, ask them to switch!
Don't use Google Home devices in your house or apartment — These devices record everything that occurs in your home, both speech and sounds such as brushing your teeth and boiling water, even when they appear to be inactive, and send that information back to Google. The same goes for Google's home thermostat Nest and Amazon's Alexa.
Don't use an Android cellphone, as it's owned by Google.
Ditch Siri, which draws all its answers from Google.
Don't use Fitbit, as it was recently purchased by Google and will provide them with all your physiological information and activity levels, in addition to everything else that Google already has on you.
Stop using Gmail — Use a privacy based encryption service like Proton Mail.
Stop using the Chrome browser and Google Search, Brave is the overwhelming browser of choice and while you are there you can use the new Brave search engine.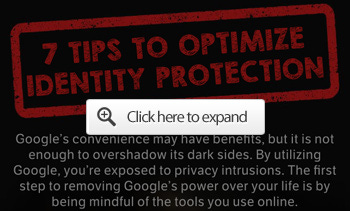 Subscribe to Mercola Newsletter
Disclaimer: The entire contents of this website are based upon the opinions of Dr. Mercola, unless otherwise noted. Individual articles are based upon the opinions of the respective author, who retains copyright as marked.
The information on this website is not intended to replace a one-on-one relationship with a qualified health care professional and is not intended as medical advice. It is intended as a sharing of knowledge and information from the research and experience of Dr. Mercola and his community. Dr. Mercola encourages you to make your own health care decisions based upon your research and in partnership with a qualified health care professional. The subscription fee being requested is for access to the articles and information posted on this site, and is not being paid for any individual medical advice.
If you are pregnant, nursing, taking medication, or have a medical condition, consult your health care professional before using products based on this content.
Google Cloud Healthcare Data Engine
Medical Futurist Google's Masterplan for Healthcare July 27, 2021
Linked In, Google's Role in the Restaurant Industry July 21, 2020
The Intercept January 27, 2020
Western Digital, Accenture, Value of Data: Seeing What Matters — A New Paradigm for Public Safety Powered by Responsible AI (PDF)
The Intercept January 27, 2020
Business Insider October 4, 2010
Links:
Links
Humans are not at the top of the food chain but part of it!
Pushing the fake & synthetic food agenda! – My Blog (humanityandearth.com)
Pushing the fake & synthetic food agenda!
The Federal Reserve Endgame Is Not a Collapse, It's Global Domination
New Studies Deliver Harsh Verdicts on Mask Mandates, Vaccine Mandates for U.S. Cities
Emergency powers should be used only in case of war.
Skull and Bones Society & Thule society! – My Blog (humanityandearth.com)
Skull and Bones Society & Thule society!
Ron Hubbard, Founder, of the Church of Scientology.
http://energy-from-space.com/wp/2022/05/29/pictures-of-free-energy-devices-as-published-on-the-net/
The Change Agents for EU and Globalists who 'Lead beyond authority'.
Digital identity, digital twins, programmable central bank digital currency, a social credit system, human
augmentation and the Internet of Bodies (IoB). These are all part of the dystopian future being rolled out by
the globalist cabal as the "solutions" to all the world's problems and have created.
All the hydrocarbons ever burned, all coal, all the nuclear fuel rods ever expended in all the nuclear power plants, added in fact not a single permanent watt to the power line.
Instead, all that expense, effort, and pollution and destruction of the biosphere was and is necessary in
order to keep adding internal energy. Thus all the systems our scientists and engineers were told to design and build, require that we continually input more energy to restore the dipole, than the circuit dissipates in the load and keep it so.
It is only the fast introduction of these free energy devices can save us now and will add permanent energy to the grid without the usual pollution. Please visit:
energy-from-space.com links
Use of frequencies and effects on our bio energy field that surrounds our body.
A new U.S. & Alien agreement as claimed by Israeli-Scientist?
US considering admitting working with Aliens and do research on Mars.
NWO & WHO coupe, the Alien card.
China and free energy Technology.
Free magnetic energy generator.
Tesla and wireless electricity.
Healing and Channeling device.
Big companies who brought us Toxins, food and climate changes.
Finite Element Model for Atmospheric IR-Absorption Joseph Reynen. (CO2)
"There is class war, right, but it is my class, the class of the rich, that is waging war.
Free energy and T. E. Bearden, Ph.D
matilda-macelroy.com pages:
https://matilda-macelroy.com/wp/2021/10/25/the-manifestation-of-the-primordial-serpent-on-earth/
https://matilda-macelroy.com/wp/2021/10/24/cabal-or-the-deep-state-alien-connection
Humanityandearth.com links
De-population attempts?
The great food reset.
The physical Universe.
Antarctica and the hollow planets!
Is planet Earth hell?
Humanity & History!
Health and Ageing!
Mind control, US destruction from inside out!
Africa, Marduk's Bluff? & Alien response & Putin.
The Biofield and low frequent EM field/waves.
Liberalism now lost?
Dulce, New Mexico, whistle-blower rapport by Thomas Edwin Castello.
Numbers 3, 7, 9,11,13, 33, 39.and the Free- Masons & illuminati.
Loosh, energy generated by all organic life forms.
Mad Science from Dr Mercola publication.
End of the Western Democracy and liberalism.
Links humanityandearth.com:
Banning Early Treatment Was a Crime Against Humanity?
Big Data, Transhumanism & Why the Singularity May Be Faked.
Skull and Bones Society & Thule society!
Power & greed, pushing for the economic collapse or great reset.
Forcing the New Dystopian future.
History of the human build UFO's
Humanity being sold like cattle, agenda 21 UN.
EU Central bank, pushing for Digital currency.