Wormhole /portal above Antarctica.
The website hopes to shed some light on the discovery of the underground complex in Antarctica and is very old by the Germans in 1938 and actively engaged in the development of two entirely different types of disks and by two different group of people.
One Being there heave gritter using three antigravity engines and the Vril-line assisted by mediums also know as fallen Angels and planet origin being Aldebaran.
The later being heavily promoted by the major media and Deep State officials for several reasons.
At the end of the Second World War, Antarctica became the hub for a secret alliance between a breakaway German
colony and different extraterrestrial groups.With the aid of these alien allies, the Germans were able to develop
a powerful so-called Dark Fleet that routed the combined military forces of both the US and its allies on the Antarctic continent.
The Vril type crafts developed with assistance of contacts/forces living in Aldebaran and entirely different of the other design. Build to be able tot travel between the stars using the Wormhole present high above Antarctica.
There were two things that had been burned into my mind very early on and I found both of them to be very useful when applied to the present problem. The first was the remark attributed to FDR: "Nothing in politics happens by accident. If it happens, you can bet it was planned." The other idea was a remark made to me by a friend who had been trained in Army Intelligence. He said that the first rule of Intelligence is to just observe what IS and understand that it is very likely the way it is for a reason; someone has engineered it.
Once you have settled that firmly in your mind, you can then begin to form hypotheses about who might benefit the most from a given situation, and once such hypotheses are formed, you can then begin to test them.
You may have to discard any number of ideas when you find the flaw, but unless you begin with this process, you will be duped over and over again.
In considering the problem before us, we can see that there are "tracks" throughout history of some pretty mysterious goings on that do, indeed, suggest a "conspiracy." If we take that as an observation of what IS, we immediately face the second big question: is it a conspiracy of "good guys" or "bad guys?"
It is at this point that all the various conspiracy experts begin to diverge into their assorted rants about
Zionists or Masons, Great White Brotherhoods, Benevolent aliens and all the many variations thereof.
But what if, instead of asking that question and beginning to argue, we just settle back and observe what is and try to find the answer based on observation?
Richard Dolan has written about "conspiracy" in the following way: [Conspiracy Theory.] The very label serves as an automatic dismissal, as though no one ever acts in secret.
Let us bring some perspective and common sense to this issue.
The United States comprises large organizations – corporations, bureaucracies, "interest groups," and the like –which are conspiratorial by nature. That is, they are hierarchical, their important decisions are made in secret by a few key decision-makers, and they are not above lying about their activities.
Such is the nature of organizational behavior."Conspiracy," in this key sense, is a way of life around the globe.
Within the world's military and intelligence apparatuses, this tendency is magnified to the greatest extreme. During the 1940s, […] the military and its scientists developed the world's most awesome weapons in complete secrecy… […]One of the better informed sources and worth watching is:
Anyone who has lived in a repressive society knows that official manipulation of the truth occurs daily.
But societies have their many and their few. In all times and all places, it is the few who rule, and the few who exert dominant influence over what we may call official culture. – All elites take care to manipulate public information to maintain existing structures of power. It's an old game.
———————————————
Take the bible for example being an Extraordinary Book: A book which claims infallibility; which aspires to absolute authority over mind and body; which demands unconditional surrender to all its pretensions upon penalty of eternal damnation, is an extraordinary book and should, therefore, be subjected to extraordinary tests.
But it isn t.
Neither Christian priests nor Jewish rabbis approve of applying to the bible the same tests by which other books are tried. Why?
Because it will help the bible? It can not be that.
Because it might hurt the bible? We can think of no other reason.
The Truth is that The Bible is: A Collection of Writings of Unknown Date and Authorship Rendered into English From Supposed Copies of Supposed Originals Unfortunately Lost.
The US national intelligence and security players.
1993
John Mack: According to Dick Farley, former aide to C.B. Scott Jones, Laurence Rockefeller funneled "$194,000 to Mack's Harvard- affiliated 'Center for Psychology and Social Change,' via the Washington, D.C. chartered 'Human Potential Foundation, Inc.' in the 1993-1994 period. Mack's group then started 'PEER' (Program for Exceptional Experience Research) and operated an 'alien abductee support group' who, among other functions they […]
1970
Zbigniew Brzezinski, President Jimmy Carter's National Security Director, said in his book, Between Two Ages, weather control was a new weapon that would be the key element of strategy. "Technology will make available to leaders of major nations a variety of techniques for conducting secret warfare…" He also wrote "Accurately timed, artificially excited electronic strokes could lead to […]
1966
The Ramparts Affair – The radical magazine Ramparts begins a series of unprecedented anti-CIA articles. Among their scoops: the CIA has paid the University of Michigan $25 million dollars to hire "professors" to train South Vietnamese students in covert police methods. MIT and other universities have received similar payments. Ramparts also reveal that the National Students' […]
1954
Atomic scientist Robert J. Oppenheimer [the Father of the Atomic Bomb] loses his US security clearance. Guatemala – CIA overthrows the democratically elected Jacob Arbenz in a military coup. Arbenz has threatened to nationalize the Rockefeller-owned United Fruit Company, in which CIA Director Allen Dulles also owns stock. Arbenz is replaced with a series of right-wing dictators whose bloodthirsty […]
1950
President Truman survives an assassination attempt on November 1st. Calmly he keeps to his scheduled appointments afterward. The Korean War begins. Department of Defense begins plans to detonate nuclear weapons in desert areas and monitor downwind residents for medical problems and mortality rates. The French conducted research on infrasonic weapons. (From "The Road From Armageddon", by Peter Lewis, […]
1949
Chinese Communist Party leader Mao Zedong and his supporters gain power in China. George Adamski, grill cook in a roadside hamburger stand, wrote, in his spare time, a document which he called An Imaginary Trip to the Moon, Venus and Mars. He voluntarily listed it with the Library of Congress for copyright purposes as a work of fiction. His […]
1946
Sweden. The Scandanavian countries reported over 2,000 unidentified flying objects over their airspace. These objects usually looked like rockets with fiery exhausts, and they sometimes performed unusual maneuvers as they passed overhead. At first they were thought to be captured German V-2 missiles that were being tested by the Russians, but British radar experts said they […]
1944
United States, Washington, DC. On February 22, Franklin D. Roosevelt writes a Top Secret memo on White House stationary for "The special committee on non-terrestrial science and technology." Both the title and the content clearly allude to extraterrestrial life, the former using the word "non-terrestrial" and the latter talks about "coming to grips with the reality […]
1940
Four hundred prisoners in Chicago are infected with Malaria in order to study the effects of new and experimental drugs to combat the disease. Nazi doctors later on trial at Nuremberg cite this American study to defend their own actions during the Holocaust. Rockefeller Foundation supports work to improve the design of the Van de Graaff accelerator. Disk technology […]
1933
In his book Aggression, Otto Lehmann-Russbeldt tells us that "Hitler was invited to a meeting at the Schroder Bank in Berlin on January 4, 1933. The leading industrialists and bankers of Germany tided Hitler over his financial difficulties and enabled him to meet the enormous debt he had incurred in connection with the maintenance of his private army. […]
1932
The Tuskegee Syphilis Study begins. 200 black men diagnosed with syphilis are never told of their illness, are denied treatment, and instead are used as human guinea pigs in order to follow the progression and symptoms of the disease. They all subsequently die from syphilis, their families never told that they could have been treated. Rockefeller Foundation grants […]
1929
Herbert Hoover becomes the 31st president and the first president born west of the Mississippi River. Stock Market Crash – The Great Depression begins. The stock market crash throws the nation's economic system into disorder. Roosevelt's vigorous relief policies convince people that he is on their side. Joseph Kennedy is one of the few financiers to sense […]
1928
Calvin Coolidge declines to run for president again. Herbert Hoover was "designated" to run for president of the United States. There was only one problem; although Herbert Hoover had been born in the United States, and was thus eligible for the office of the presidency, according to the Constitution, he had never had a business address or […]
1921
Rockefeller Foundation endows a second and third school of public health in the U.S.- Harvard University and the University of Michigan -and launches an ambitious plan to circle the globe with schools. Spending more than $25 million, RF helps establish schools in Prague, Warsaw, London, Toronto, Copenhagen, Budapest, Oslo, Belgrade, Zagreb, Madrid, Cluj (Romania), Ankara, Sofia, […]
1919
RCA founded. Within a year of its foundation, engineers began publishing papers and organizing the study of long-range radio communications. The Rockefeller Foundation's work in the natural sciences begins, with support to the National Research Council to establish fellowships in physics and chemistry.
More than $4.5 million is expended over 33 years to train more than 1,000 individuals. During a […]
1913
At his inauguration on March 4th, Woodrow Wilson notices that a wide space had been cleared in front of the speaker's platform. He motions to the police holding back the crowd and orders: "Let the people come forward."
His supporters will later say the phrase expresses the spirit of his administration. The Wilson administration offers Franklin Roosevelt several […]
The so-called Dark Fleet has since grown into a powerful military space force with bases not only in Antarctica, but also on the Moon, Mars and elsewhere in our solar system. Other claims that the Dark Fleet is behind a "galactic slave trade" involving millions of missing people, and regularly conducts interstellar operations against peaceful planetary civilizations.
In addition to planet earth we have two more hollow planets and parts of the moon being Mars and Jupiter. The underground of Mars and Jupiter are populated.
Inner earth: http://Hollow Earth (imperialgermans.com)
Earth history:
One of the better informed sources and worth watching is:
Be current, Be aware. Receive notificactions when new content is available.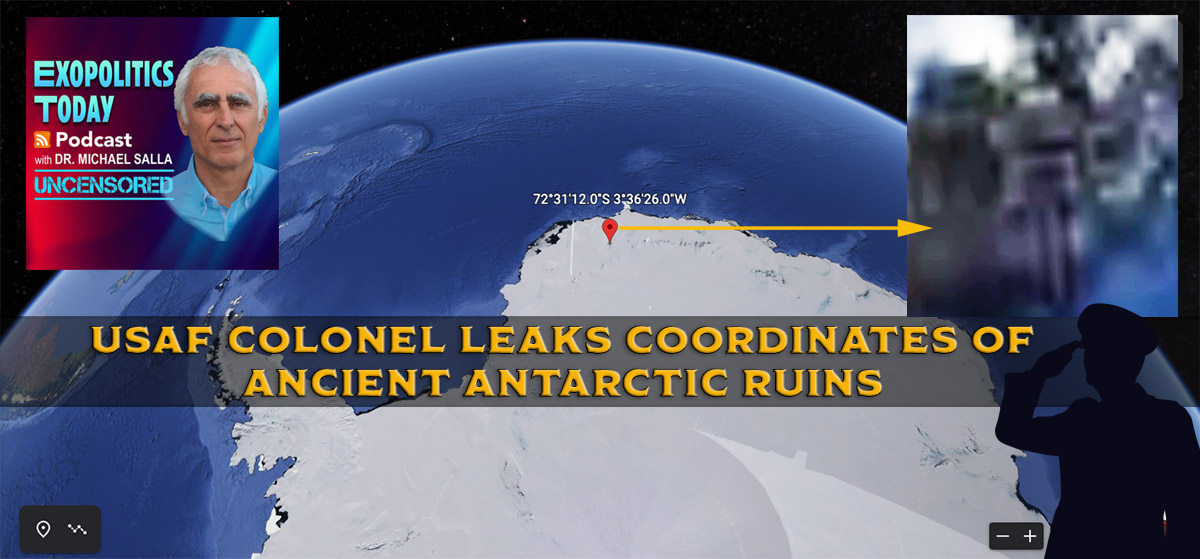 USAF Colonel leaks coordinates of ancient Antarctic Ruins
WRITTEN BY DR MICHAEL SALLA ON JANUARY 1, 2022. POSTED IN DISCLOSURE, EXOARCHEOLOGY, FEATURED
On December 26, 2021, my US Army source, JP, was given a set of geographical coordinates from an unnamed Lt Colonel (USAF) who simply told him to publicly release them. JP had seen the officer at a classified briefing he attended at a military base where he is currently stationed, where he was told about ancient ruins being found on Antarctica, the Moon, Mars, and elsewhere in our solar system.
These were being investigated in joint missions with various Earth nations, including China. JP participated in the Moon mission, which I covered in my previous interview with him, and in an earlier joint mission to Ganymede.
The coordinates given to JP (72°31'12″S 3°36'26″W) appear to show a large building complex located about 150 miles (240 km) from the Antarctic coastline in Queen Maud Land. This is an area that was claimed by Hitler's Third Reich and where an Antarctic Colony, Base 211, was secretly established during World War 2.
The ruins are in an elevated area that is ice-free and appears to have a runway or very long hangars from which aerospace vehicles can take off and land.
It's important to point out that the ruins are many miles away from the two nearby Norwegian bases Troll (72°00′42″S 2°32′06″E) and Tor (71°53′22″S 5°09′34″E). These are the two closest Antarctic research stations to the coordinates given to JP, which shows the structure nearly 8 degrees to the west of Troll, with similar latitude. I've marked the approximate location of the structure in relation to Antarctic Research Stations in the following graphic.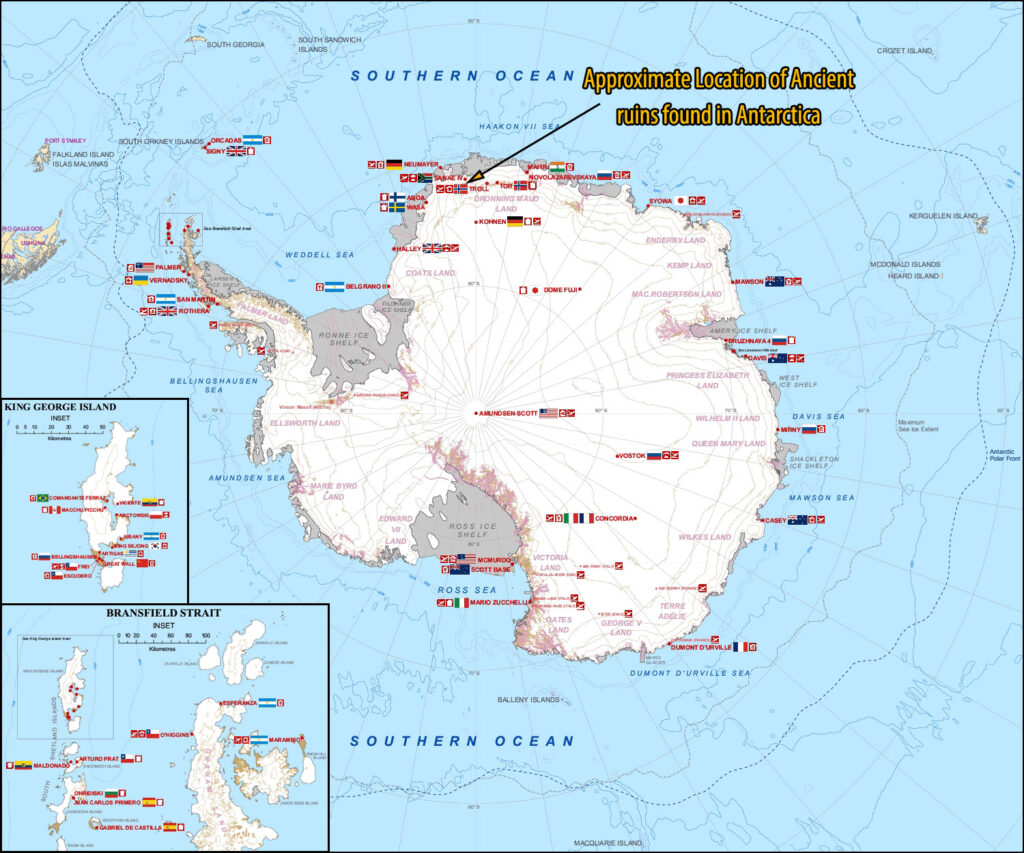 According to JP, the US military is working inside several buildings at the ruins, one of which contains a 'stargate' or a 'portal' that enables instantaneous travel in our solar system. This is JP's skype message to me about the ruins:
These are the ruins where everybody meets up. He is one of the officers. I only saw him once in the rooms that we do the meetings. Came up to me and said to share the information. He works in the building where the gates are that takes you to different places in our solar system. [12/26/2021].
Significantly, the USAF Lt Col is said to work in the building where the portal/gate is located. An estimate of the ruin's size, using Google Earth, is roughly 2500 feet (about 830 meters).
JP created a video that shows the structure on Google Earth for the coordinates he was given and compares its size to Machu Picchu (JP's video starts at 3:08 in the audio version of this article).
The location of the ruins suggests that it was found and previously used by the German SSP (Dark Fleet) and was off-limits to the US military. This would have been especially the case if it housed a portal enabling instantaneous travel in our solar system and beyond.
It is possible that the ruins were recently handed over to the US military by China. In previous articles I have examined claims that the German Dark Fleet recently had to evacuate Antarctica due to intervention by an Earth Alliance working with friendly extraterrestrial organizations: the Galactic Federation of Worlds. The Dark Fleet facilities were reportedly handed over to China, which quickly handed them over to US Space Command with the provision that joint scientific research would be conducted at these, as stipulated in agreements reached in July above Jupiter, which I discussed here.
Critics may point to the apparent ruins as merely pixelation due to the low resolution images from the US Geological Survey that Google Earth used for creating the aerial overview. A close examination of the image in comparison to other nearby areas suggests that the object is not due to image pixelation. On Google Earth Pro, a historical review of the coordinates sent by JP show that this is the first time the structure has shown up.
An official graphic from AntarcticGlaciers.org shows that the ice sheet is less than 500 meters thick in the region where the ruins are located. Its location at an elevated ice-free area makes it quite suitable as an airbase that was used by its former occupants—Germans, extraterrestrials, or an ancient civilization.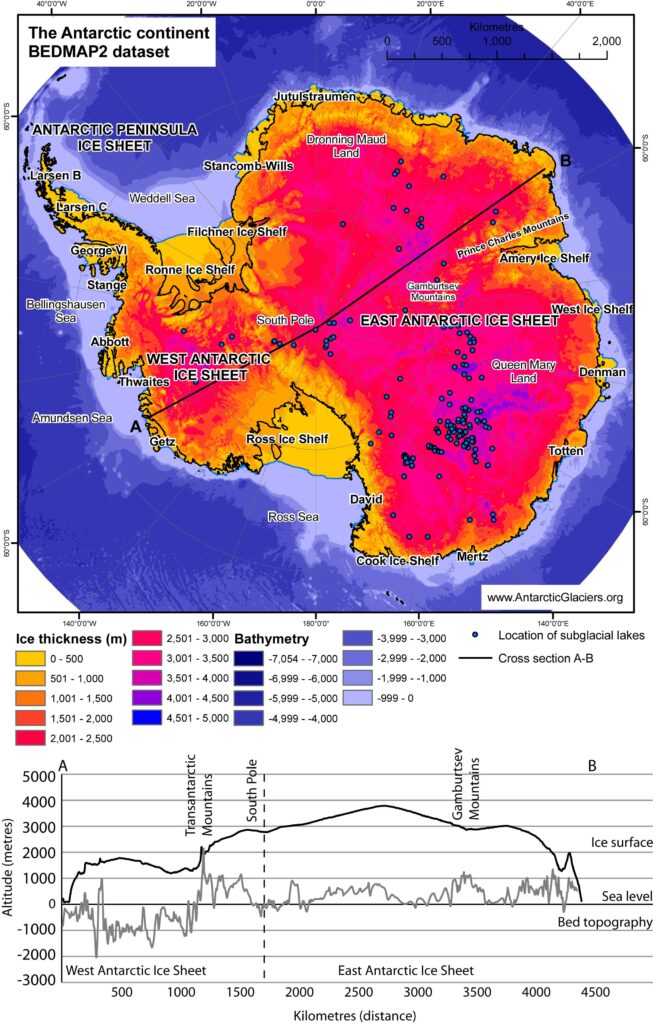 Some may wonder why JP was given the coordinates of these ancient ruins by the USAF officer and told to release it publicly. It is important to point out that in 2017, Air Force operatives, on several occasions, instructed JP on where to look up to the sky to take photographs of flying triangles and rectangles in the vicinity of MacDill Air Force Base. The photos and related articles are available here, here, and more here.
I have high confidence in JP's reliability as a witness and as a conduit of information releases tacitly approved by senior military officials. This leads me to conclude that the structure found in the Google Earth images may well be ancient Antarctic ruins, significantly larger than those found at Machu Pichu, which was previously used by the German Dark Fleet and is now under the control of an Earth Alliance led by US Space Command.
End of the Story:
At the end of the Second World War/ defeat of the US in Antarctica in 1947 it became the hub for a secret alliance between a breakaway German colony and different extraterrestrial groups. Expanding with additional of their alien allies, the main UFO fleet and moving/going where they did like.
To the outsiders the owner of the powerful Dark Fleet that routed the combined military forces of the US and its allies on the Antarctic continent. Starting to work and form alliance's with the Cabal and Freemasons 33 plus, also known as the alien connect. Several agreements reached between the group, there German counterparts in the US also known as the Deep State and the factual rulers.
Now the Dark Fleet has since grown into a very powerful military space force with bases in Antarctica, on the Moon, Mars and elsewhere in our solar system. Also the Dark Fleet is behind/control of the galactic slave trade" resulting in millions of people going missing, also reported act of wars, regularly involved into targeting in peace living planetary civilizations. The local epicenter of a tyranny that would and if not checked could eventually span the galaxy.
Links humanityandearth.com:
Banning Early Treatment Was a Crime Against Humanity?
Big Data, Transhumanism & Why the Singularity May Be Faked.
Skull and Bones Society & Thule society!
Power & greed, pushing for the economic collapse or great reset.
Forcing the New Dystopian future.
History of the human build UFO's
Humanity being sold like cattle, agenda 21 UN.
EU Central bank, pushing for Digital currency.