The universe, the last frontier.
Recent Events: Now after China did state and except the presence of aliens on earth both currently and the past including interfering with humanity the US is starting to prepare the public.
First, there is officially admitted to the existence of UFOs and release of previously classified footage in 2017 of two navy pilots scrambling to intercept one (a UFO) and promising with more footage on the way.
The video shows an object traveling at a high rate of speed, and performing maneuvers that should be impossible based on our known laws of aerodynamics displaying maneuvers that no known man-made aircraft can perform. Also that this is something that's been happening for a long time, and something that happens a lot. It is not so long ago that humans have been murdered to keep this a secret. That there are hundreds of reports made of and within high ranking personnel from within the military, other fields and eyewitnesses, and the possible release of millions of pages of UFO documents hidden within different governments.

Space or the universe is a very busy place and contrary to what we are led to believe. Living in isolation for such a very long time has resulted in being focused on oneself, being the center of creation, the origin of life. We are told so or let to believe by Governments, science, you find it in notions of Creation and the Divine, all associated with this one world alone. The so-called search for life, how blind can somebody be, beyond absurdity?
Our current situation of us is that of an isolated tribe being discovered by the outer world and completely unprepared for it, not we venturing out but others coming in.

There are those powers already on earth and others now attracted by our broadcasting into space and arriving here.
Our presence now is well known to our neighbors and to other groups in this part of the Universe and are watching our world with great interest/possible gain.
The outer world, the universe or greater community is not a friendly place and we are standing at the threshold of an entirely different reality; a non-human universe—a universe where our human values and aspirations are not universally shared, a universe where our existence and where our importance is of little consequence. Except for a few races who either seek to support human freedom in the universe but many others races who might try to take it for gains/power.
Just like newly discovered tribes we do know nothing about the rules of engagement, laws, behavior, relations between planetary nations, what is allowed or accepted and important too what is not.
As Airl did state during the interview, throughout the entire history of this physical universe, vast areas of space have been taken over and colonized by other intelligent civilizations,
1. the overwhelming use of force of arms, usually with nuclear or electronic weapons.
2. by mind control of the population in the invaded area through the use of electroshock, drugs, hypnosis, erasure of memory and the implantation of false memory or false information intended to subjugate and enslave as is the case on earth.
3. take over of natural resources by the invading civilizations.
4. political, economic and social slavery of the local population, preferably by stealth means.
All these activities continue in present time on earth.
The use of thermo-nuclear explosions which left marks on the earth surface and still visible inclusion also the surface of Mars and Moon.
Everyone in this universe is seeking resources, and the more technologically advanced nations dependent upon it. Within the Universe You cannot find a place where this need does not exist, in fact, the more you do technologically advance the greater its dependence.
Because the earth is a heavy gravity planet meaning rich in resource it differs from others due to the make-up of the population and this is causing trouble.
Earth is a "ghetto" planet. The result of an intergalactic "Holocaust".
The spirits which have been sentenced to Earth for either or because of:
1. They are too viciously insane or perverse to function as part of any civilization, no matter how degraded or corrupt.
2. Or, they are a revolutionary threat to the social, economic and political caste system that has been so carefully built and brutally enforced in the "Old Empire" (this part of the universe).
Biological bodies are specifically designed and designated as the lowest order of entity in the "Old Empire" caste system. When a spirit was sent to Earth, and then tricked or coerced into operating in a biological body, they are actually in a prison, inside a prison.
3. An effort to get permanently and irreversibly rid the in the "Old Empire" of such "untouchables". Procedure by the eternal identity, memory, and abilities of every hum, an on earth which is forcefully erased. This "final solution" was conceived and carried out by the psychopathic criminals who once were controlled by the "Old Empire".
The mass extermination of "untouchables" and prison camps created by Germany during World War II was likewise.
Until that time all the humans on Earth where the victims of spiritual eradication and eternal slavery, our spiritual part to be incarnated inside frail, biological bodies by forces in the "Old Empire". (part of the re-programming and the reason why we cannot remember our past/origin properly.

When "Old Empire" lost the space war and the domain was victorious this operation continued and is managed now by an illicit, renegade secret police force of the "Old Empire".
No longer by themselves but using human butchers and lunatics who are themselves controlled by the "Old Empire" prison-based operators.

A relatively small part of the current population where exiled for proper reasons, being incurable lunatics, perverts, criminals, tyrants and got themselves a new and well-rewarded job consisting of terrorizing the remaining humans and law-abiding persons with no respect for value/environment and life.
The so-called "civilizations" of Earth, from the age of useless pyramids to the age of nuclear holocaust, have been a colossal waste of natural resources, a perverted use of intelligence, and an overt oppression of the spiritual essence of every single human on earth.
What can greater brutality be inflicted on anyone than to erase the spiritual awareness, identity, ability, and memory that is the essence of oneself? With the old empire defected and gone the old practices continue on earth but trouble as result of aging equipment.
We have to realize that the spiritual force now on earth has participated in this being part of an invading force/activities in the past or subject to invasion. There are no "saints" in this physical universe. Very few have avoided or been exempted from warfare between different spiritual forces/humans.
Resume; There are humans on Earth from unnamed races, civilizations, cultural backgrounds, and planetary environments. Mirrored by the different ethnic populations, each has their own languages, belief systems, moral values, religious beliefs, training.

Many still unknown and untold stories and histories have to be told. After incarnating in the human flesh body the difference in background expressed in ethnic lines. So the planetary origin of the Chinese, for example, is different from the black colored person, people from India, Indonesia, Japan just to mention a few.
The planet of the Celtic people being Lyra some say even humanity. There national symbol the harp. As mentioned before humanoids are a minority in the universe. Lyra has set an example for countering of submission and acquiesce. Please search the web for info about Lyra as long as you can to learn these techniques. The government will not be able to protect nor secure our future. Same goes for the army or military who are no match for these technologically advanced civilizations. There is something like free will but that will not protect either. Similar to our universal rights as stated in the VN but never did stop anyone from violating these rights up to today. To remember that big money and the intervention forces are two branches of the same tree or feathers of the same bird if you like. (Shared interests).
The Intervention forces in waiting are not there just to destroy us but to use, for their own purposes. In order that we submit and turn over earth resources, first the deception, trying to pacify, the temptation to submit and to acquiesce made or presented as very strong and compelling, hard to refuse. We will be offered almost anything, free energy, weather control, water, food, peace, technological advantages just name it. Our politicians must have learned the trick from them. Baskets full with easy promises, most made-up of suppressed discoveries here in the past.
Also, there are the Chinese and possibly others as expressed desire to re-establish contact with there planets of origin (called dragon), communicate, reunite, trade and have other exchanges. To do so is possible by recovering memories out of the past, a difficult process but by realizing and excepting what did happen in the past possible becomes easier. Some will be better at it than others, but by saying and accepting the key. The brain will then start searching and connecting, no special need/training just think of it regularly).
To realize that the outer world, the universe or greater community is an entirely different reality, a non-human based universe—a universe where humanoid and their values and aspirations are not universally shared.
To realize that the human flesh body from origin mammal based with a soul structure has been misused. Resulting in or cause of problems during incarnation. That dolphins and wales have a similar structure to humans including a soul structure and can accommodate spirits/control.
With the end of the space presence of the "Old Empire," other civilizations are now invading and dumping unwanted souls in theirs now on earth adding trouble to an already difficult situation.
That the main travel between the different planets is by using wormholes and not through open space. That the Germans were the first humans who did enter a wormhole in space in 1944 successful. Reaching Aldebaran about 68 light years away.
That intervention of The Domain Force on Earth has not been entirely successful due to the secret mind-control operation of the "Old Empire" that still continues to operate.

That the very unusual combination of "inmates" on Earth – criminals, perverts, artists, revolutionaries, and geniuses – is the cause of a very restive and tumultuous environment. The result of mixing the spirits on Earth from all these sometimes even unnamed races, civilizations, cultural backgrounds, and planetary environments on earth.
Let's hope that the prediction of the coming of the Beast does hold little truth?
Currently;
Galactic Federations:
Med Beds.
Advanced Med Beds & technology
Med beds, bridging the gap between advanced technology and the ethereal world of spiritual healing, have the power to forever alter the landscape of wellness.
Three days of darkness, time move fast and prepare. Click here for the video/link and information.
Toxic cleaning, distancing of toxic people/environment.
SIGNS You're Already Living in THE 5th Dimension!
The concept of the 5th Dimension often elicits a blend of mystique and aspiration among those on a spiritual quest. the 5th Dimension is akin to unlocking a new realm of understanding..
The journey to the Fifth Dimension is not merely a spiritual expedition, but the 5th dimension is an invitation to embrace a life filled with light, love, and the pursuit of a deeper, universal truth..
You won't ascend. Click on link for the video with information please.
Changing from 3 to 5 dimensions
here is no death on the New Earth. The New Earth will be a paradise-like place. The transition from carbon-based to crystalline-based DNA has been described as a quantum leap in human evolution. Humanity will become immortal.
Galactic beings take on many different roles to help earth make the transition into the Golden Age. They are helping people spiritually and physically by working with the higher vibrational fields that represent light, love, and truth. A bright future is ahead of u
Video link, please have a look.
Galactic beings take on many different roles to help earth make the transition into the Golden Age. They are helping people spiritually and physically by working with the higher vibrational fields that represent light, love, and truth. A bright future is ahead of us
Online info, one of several courting alien based governments currently trying to court/inform the masses not just the Governments, commercial entities like the cabal/banks.
All information has been denied, manipulated, distorted and several outspoken opponents silenced and killed and still ongoing. A never ending story about silencing the people/electorates. Not just information/awareness but outright lies.
What's happening out there?
DEEP STATE, Negative energy!
( भविष्य से (मोंटौक) यादों का वर्तमान पुनरुत्थान )
After typing the title of this article a little grin appeared on my face. What kind of realities are we opening up to? Present, Past and Future presenting itself when they deem the time is right for it. The aim of this article is to prepare the way for understanding a certain phenomenon that is described by Rebecca Rose (10,13,16-18). This is not only about memories resurfacing at certain apt times, but about decade old memories resurfacing of seeing future events seen through time travel technologies.
TIMELESS CONSCIOUSNESS
In order to gain more understanding of this remarkable phenomenon I would first like to do a 'warming up' by quoting a part from a meditation that Elena Danaan once presented in a video from June 2021 (1):
"Consciousness is the core of everything. Everything has consciousness at different levels of understanding, development. Nature. Remember this awareness to be only pure consciousness, because this is who you are inside your eternal light being, who lives inside this temporary flesh suit.
Pure consciousness that you are can reach out to realms far away. There is no limit in distance and there is no limit in time. Consciousness is timeless, eternal and inter-dimensional. When you are pure consciousness you can see through everything. You can access every knowledge, you can project yourself out of this galaxy, out of this universe and meet the intergalactic people.
When you become only pure consciousness, your vibration is close to the vibration and the density of source. Consciousness is not contained in a small little avatar. No, consciousness is part of the whole. We are all fractals of a universal unique consciousness and all linked to each other. Your consciousness is linked with the consciousness of a little pebble on a beach somewhere on a planet at the other side of the galaxy. We are all one when we are consciousness." (1)
You often hear wise and higher density folk talk about time being a third density construct and that in reality everything would be happening at the same time. Since I am deeply part of this this third density reality I find it hard to grasp and questions pop up like: "But if time doesn't exist, why would the Andromedan Council have intervened in our past because they saw that otherwise in 350 years time a 'galactic tyranny' would emerge'? (2)
Why did the Galactic Federation of Worlds intervene as a result of this, and why would the Intergalactic Confederation have returned to watch the liberation of our planet? If everything has already happened, what's the use of it?
TO JUGGLING WITH TIME

I don't have the illusion to fully grasp these concepts. I have a hard time understanding who these 20-year-and-back programs can function (4), but I can understand that these technologies might exist. I can also accept the concept of the Montauk program (5,6) without fully understanding it. The main idea being that it would be possible to use certain techniques to travel with your consciousness through time. Swerdlow talked about going back to see the crucifixion of Christ for example (5,7).
Tony Rodrigues talked about how important it was in his Secret Space Program to not mess around with time. When his crew travelled through a temporal portal they always had to make sure that they programmed their return in such a way that they would return at the same time that they left. He described a moment when they returned 16 hours too early due to some miscalculation and that they had to stay put there near that portal before they could return 'home'.
https://video.wordpress.com/embed/Kf4UIaXF?cover=1&preloadContent=metadata&useAverageColor=1&hd=1Tony Rodrigues about purchasing coordinates for the use of a portal and he describes some mistakes (8, 2 minutes)
THE RESURFACING OF USEFUL MEMORIES

If we accept that people who were part of the Secret Space Program have been part of this 'time juggling' experience leading to strange temporal phenomenon we might create some foundation to place experiences like they were described by Jean-Charles Moyen lately (10). He said that he experienced 'dreams' in which he was at certain places with certain people, like Rebecca Rose and JP. To prove that they were not mere dreams he was able to verify one such 'dream' with JP and he described certain beings around Rebecca that he couldn't have known of that were also confirmed by Rebecca herself (10).
Perhaps there is this phenomenon that allows for the emergence of certain memories at the right times? In Jean-Charles Moyen's case it was about events that have taken place in the past that resurfaced to his present-day consciousness, but Rebecca Rose has entered a territory in which she started to remember her montauk experiences, and to be more specific, her Montauk experiences in which she jumped a few decades into the future!
In January 2023 she described how a few of the memories of this (future visions from the past) kind came back to her (11-13). I would recommend reading her updates. These two resurfacing memories were related to the role of Russia in the current liberation movement from the clutches of the Cabal.
SOME CONCLUDING THOUGHTS
This kind of information is of course tricky. Anyone can say that they started getting memories of some future events that were about to come into the present. We have come across a SSP-Parody before (14) (in my opinion that is), so we have to be alert. But I consider Rebecca Rose to be anything but a SSP-Parody and I am inclined to take her information very seriously and I will undoubtfully integrate these resurfacing decades-old montauk memories of the future on this website.
Perhaps the time has come that all information that people hold somewhere in their unconscious layers will resonate to such a degree with current events, or events in the near future that they will resurface en masse, globally.
Let me know your thoughts by adding a comment below.
FOOT NOTES
(1) Q&A- VEGA -June 1st 2021
(2) See introduction at Alex Collier on the Andromeda Council & Human Liberation
(3) I found this image through a search engine, but the source page did no longer show this image, that's why I don't mention the origin of this image.
(4) Age Regression by 20 Years – Moyen and Relfde
(5) Time Travel, Portals & the Montauk Project – Interview with Stewart Swerdlow
(6) I touched upon the Montauk project a bit at Examples of Technology Transfer Deceit by Certain Alien Groups after Dr. Salla posted (5).
(7) I have recently talked about Jesus Christ at Two Extraterrestrial Perspectives on Jesus Christ – Yeshua
(8) This video can also be found at the bottom of Experiencers Describe Going through a Stargate (from (9))
(9) EXPLOSIVE NEW INTEL – NEBULA'S, REMOTE VIEWING, MILITARY OPS – ELENA, JEAN-CHARLES, TONY R, CHRIS O'CONNOR – December 11, 2022
(10) Different Parts of a Single Consciousness living in More Bodies Simultaneously
(11) Rebecca Rose on Telegram – On Janaury 27, 2023 Rebecca responded very kindly to the current article (19)
(12) A Russian Extra-terrestrial Alliance – The Future As Seen From Montauk
(13) Russia, the Ukrainian Ark and the Deep State (see bottom part of that article)
(14) Would we recognize a SSP-Parody?
(15) Study Abroad
(16) A Draco Planet in the Kuiper Belt
(17) Using Children to Operate Jump Gates
(18) The Off-World Mantids
(19) Joost, the creator of the extensively well-documented and annotated Galactic Anthropology site, clearly had a good time encapsulating my recent Montauk info. I also really appreciate the mention in this article of Jean Charles Moyen, who saw me accompanied by Six on a federation ship. This occurred before JC knew anything about me and my testimony. I now have even more info on Six that corroborates what JC witnessed. — So the circle widens and repeats! The overlap is becoming an unstoppable force leading us on. — Thank you, Joost-of-the-Netherlands!
I was triggered to write this article by a telegram post of Elena Danaan on March 12, 2022 (1). I have spoken about the Moon before on this website on various occasions. One of the reasons for building this website was to provide an introduction to the extraterrestrial connections we would have as humanity. Because of the extraordinary nature of this information it can be quite useful to spend a few moments on a certain aspect in order to establish more understanding. If one explores new territories it is wise to sit back occasionally. Let me invite you for a trip to the Moon.
The Liberation of the Moon
In February 2021 the Earth Alliance would have removed all the alien regressive presences on the Moon, just like these aliens were chased off of the surface of Mars (2) with the assistance of the Galactic Federation of Worlds. Ceres would have been liberated back in august 2021 defeating not only regressive alien groups, but also people from the Nachtwaffen (3). Tony Rodrigues talks about his trips to the Moon and his experiences on Ceres and Mars in his fascinating book (4). One of the things that would have been done on the Moon before it was purged, was surgery by Grays. Here's a part of his book:
"What I do remember however, was being constantly wheeled down never ending hallways on a gurney by a typical gray alien – from one surgery to the next….The bits of the surgery that I do remember were things being done through the back of my neck and behind my ears. The Grays were performing the surgeries and they would have telepathic conversations with each other during them. They didn't speak of anything too compelling, just their everyday lives. They were talking about being late and over scheduled, simple things like that." (4, p.51)

One of the things that would have been implanted was a language translation device (and probably all kinds of tracking devices)
Effects of the Liberation of the Moon
With the regressive aliens gone from the bases on the Moon, the Deep State/Cabal has lost powerful allies (5,6). I have spoken earlier on about certain effects this liberation of the Moon would have had. I talked about the dismantlement of the 'movie projector' that would have kept us in a 'matrix-reality' that was favorable to these Alien groups (7) and we would have been released from a kind of 'Earth-bound reincarnation-trap' (8).
Cislunar Highway Patrol System
On March 12, 2022 Elena Danaan reposted a link from Dr. Michael Salla (1) to the Cislunar (=between Earth and Moon) Highway Patrol System (9,10).
This system will be launched in 2025. Here's an excerpt from the website of the AF Research lab:
"In the next decade alone, the amount of traffic to the Moon as well as the lunar surface, is expected to increase significantly. In the same way that the DoD monitors activity in space near the Earth, monitoring spacecraft above GEO is necessary to ensure safety of operations and to provide attribution if any harmful actions are taken by an adversary. CHPS will provide much needed space domain awareness data to the Space Force, and assist NASA with its mission to land astronauts safely on the Moon, as well as identify and track potentially hazardous near-Earth asteroids." (10)
I would like to think that this is another step in preparing humanity for its role as part of the Galactic Federation of Worlds. For finally we will be allowed to see all the bases and activity that is taking place on the dark side of the moon. We won't find that Gray doing his evil surgeries again though.
LINKS
(1) Telegram Account Elena Danaan
(2) Galactic Federation Intervention on Mars, Moon & Earth
(3) The Liberation of Ceres | Galactic Anthropology
(4) Rodrigues, T. (2021) Ceres Colony Cavalier. Amazon Press.
(5) Seeing Through the Agendas of the Deep State | Galactic …
(6) The Deep State Would have lost its Alien Support Completely
(7) The Movie-projector is turned off – Are we going to …
(8) Dismantlement of Nebu's Forced Reincarnation 'Machine' on the Moon
(9) Cislunar Highway Patrol System (CHPS) (video)
(10) CISLUNAR HIGHWAY PATROL SYSTEM (CHPS)
On March 3, 2022, a day after the Russians secured the city of Kherson in Ukraine, Dr. Michael Salla published an article on the possible presence of an Ark some 25 kms to the east of this city in a natural park called Oleshky Sands (1). I advise you to read that article to get to know all about the context and the sources for such an extraordinary claim.
This page delves into Russia and its possible relationship with the Galactic Federation of Worlds and the Cabal. To read more about the Arks check out articles 3 and 4 which also contain links to the exopolitics-website. Before the news on the Ukrainian Ark there was the second mission to the Atlantic Ark near Bermuda which involved a group of Russian military (5).
So, what to think of Russia's role in all of this? While searching through the material by Elena Danaan and Dr. Michael Salla I came up with the following interesting elements
President Putin and the Deep State
President Putin has never been a favorite of the Deep State. For decades he has been demonized by the Main Stream Media as the personification of evil. The same forces behind the Corona-madness are now fervently attacking everything that is Russian. In 2006 Putin paid off all the Russian debt to the Rothschilds making Russia independent from them (6). Putin would also have said: "The New World Order worships Satan" (7,8). He has always been an advocate of a multipolar world and not a world with only one country leading the rest.
In the article on the Kherson-Ark Thor Han said the following in regard to Putin and Russia:
"This is not an invasion of Ukraine but part of the cleansing operations. The DS was attempting to activate the Ark, which they had found many years ago, buried underneath the sand in the lower southern part of Ukraine. The ark activated, so it was time Putin got his hands on it. There is a second ark in the north of Russia, but Putin already has control of it.
….Putin has his hands on the other ark in the north of Russia, and he has been taught by positive extraterrestrials how to use this technology. It is information without consequence because this ark in north Russia is secured and in good hands, contrarily to the Ukrainian ark, which, through to this day (March 01, 2022) is in the hands of the Earth Alliance, it is still fought for by the DS military based in the south of Ukraine, near the ark "buried in the sand." (1)
This battle would have ended with the Russians driving out the Deep State military on March 2, 2022, and thus supporting the Earth Alliance in holding on to this arc.
Russia and Edgar Cayce
Dr. Michael Salla mentioned Edgar Cayce in a 2019-article (10):
"To further explore why Putin's Russia was being targeted by the Deep State we can begin with famed psychic Edgar Cayce who in 1935 made an extraordinary prophesy that a post-communist Russia would play a central role in liberating the planet from sinister dark forces who he called the "sons of Belial" that has oppressed humanity for centuries:
In Russia there comes the hope of the world, not as that sometimes termed of the Communistic, of the Bolshevistic; no. But freedom, freedom! that each man will live for his fellow man! The principle has been born. It will take years for it to be crystallized, but out of Russia comes again the hope of the world." (10)
Russia and the Jupiter Agreements
When the Jupiter Agreements were signed in July/August 2021 Russia was one of the signatories. Together with representatives of the Galactic Federation amongst other alien groups, it was decided that a group of six space faring nations would work together and for now the leading role would be taken up by the US. Both the Russians and the Chinese were unhappy with this leading role of the US, but would have conceded for the Galactic Federation would not work with a planet having multiple different space programs that would not work together (12, 14, 15).
USE DUCKDUCKGO INSTEAD OF GOOGLE
If you want to get more balanced information on affairs that deal with Deep State topics like the coronavirus and the anti-Russian propaganda you should try the 'duckduckgo.com'-search engine instead of the Deep State search engine called Google. Try to compare the results between these two search-engines and you will understand what I mean.
Update March 10, 2022: More info on the Ukrainian Ark was brought forward by JP. There would even be a second smaller Ark in Ukraine (16).
Update January 2023: Rebecca Rose has been a victim of all kinds of abuse as part of her 'training' for being part of the Secret Space Program. You can learn more about her at (17-20). She says that she was also part of the Montauk Project (21). On her telegram channel Sirius Blue (22) she described how she remembered being in a silver bullet like 'coffin' – as part of the Montauk Project – and she visited Russia in the future (this happened in the 1970s).
She wrote: "I describe a Russian space observation station on Earth… which is linked to a Pleiadian starship somewhere in the solar system. In my detailed recall, it is quite clear that the Russians have a completely transparent alliance with this Nordic race and that it is very decidedly NOT about arms and conquest or war, but about unity, upliftment and benevolent advancement.
I realized after I emerged from these very vivid memories that what I viewed in Russia so many decades ago is right now coming to fruition. — Does Russia hold a key to the emergence of a new world on this planet? — Not if we look at mainstream news propaganda. But I believe what I saw and this is a key piece to what emerges next. I believe that a sea change is coming – and that more is to be revealed from Montauk and the silver bullet." (22, January 21, 2023, see also (23,24))
LINKS
(1) Buried Ukraine space ark in Kherson activates so Russia takes over
(2) Олешківські піски – друга за величиною пустеля Європи (фантастичні фото)
(3) More on the Atlantic Ark and an Ark Summary – Rescue Mission with Russians participating
(4) The Arks and the Prime Directive
(5) Atlantic Space Ark Rescue Mission
(6) Putin's Purge of the Rothschild Money Changers
(7) New World Order worships Satan
(8) Qanon Post
(9) QAnon Reveals Deep State Nazi Connection & Attempt to Foment US Russia War
(10) The Big (Exopolitics) Picture behind Trump Russia Collusion Narrative & its Collapse
(11) Facebookaccount Elena Danaan
(12) LAAN – From Lyra to the Galaxy (video)
(13) Higher Density Blog
(14) Update on Jupiter Meetings with the Galactic Federation
(15) Secret meetings near Jupiter decide the future of our Solar System?
(16) Were US Special Forces trapped in Ukraine Space Ark Now Controlled by Russia?
(17) Different Parts of a Single Consciousness living in More Bodies Simultaneously
(18) The Unknown Ancient Architects in Our Solar System
(19) A Draco Planet in the Kuiper Belt
(20) Using Children to Operate Jump Gates
(21) I didn't pay a lot of attention to the Montauk Project. I did mention it once or twice. See Examples of Technology Transfer Deceit by Certain Alien Groups for more.
(22) https://t.me/rebecca_rose_sirius_blue
(23) Here's the complete text of Rebecca Rose's post from January 21, 2023:
"I have recently begun to retrieve more memories from my time at Montauk – quite unexpectedly and unsought. What I'm recalling has to do with my [excruciating] experiences in the "silver bullet", a sleek metal tube which would allow me, under duress, to view various future probabilities while lying down inside its coffin-like embrace.
My etheric body and consciousness would be split from my physical form so I could journey in time. I would be brought near to death repeatedly in this process and I recall now that, despite being drugged and charged with massive amounts of electro-shock, I was intentionally blocking the relay of intel from the future back to my nefarious handlers. — What's important though and perhaps more interesting is that I'm recalling exactly what I was sent to view so many years ago at Montauk in the 1970's.
— Last Sunday morning, still waking in bed, I was brought back into a memory-experience inside the silver bullet. I speak aloud what I am seeing into a voice recorder, slowly and with some difficulty. I describe a Russian space observation station on Earth… which is linked to a Pleiadian starship somewhere in the solar system. In my detailed recall, it is quite clear that the Russians have a completely transparent alliance with this Nordic race and that it is very decidedly NOT about arms and conquest or war, but about unity, upliftment and benevolent advancement. I realized after I emerged from these very vivid memories that what I viewed in Russia so many decades ago is right now coming to fruition. — Does Russia hold a key to the emergence of a new world on this planet? — Not if we look at mainstream news propaganda. But I believe what I saw and this is a key piece to what emerges next. I believe that a sea change is coming – and that more is to be revealed from Montauk and the silver bullet." – For more details see: A Russian Extra-terrestrial Alliance – The Future As Seen From Montauk
(24) The Current Resurfacing of (Montauk) Memories from the Future
In the second article on the Cabal and their surrender on Antarctica (1) Oona (2) talks about Soul Harvesting. Dr. Michael Salla expands on that topic elaborately in that article. I would like to add some additional background on this topic with information from Megan Rose's november 2021 book and from Thor Han via Elena Danaan from april 2020.
Let's start off with the december 2021 words from Oona, the representative of the Intergalactic Confederation (1,2):
"We are meeting them to allow them to uncast these dark rituals to set free the minds and the protection they set on the monetary institutions they created. A dark ancient institution. Those of the name, the number 33. Those of the lower numbers, the reverse triangles, and all those who worshipped the soul harvester. Those who worked to separate the soul from the human beings and bodies are about to leave this planet. Negotiated deals, you must not believe that we agree to their acts. We [are] displeased [at] all that they've done…. The rulership of the dark on this planet is over. Those who worked for millenniums at separating soul from the human of Terrans bodies will go. No more soul harvesting." (1)
Dr. Michael Salla goes on to describe how Alex Collier has already spoken about soul harvesting in the early 1990s, with information from his contacts with the Andromedans. I sure recommend reading that article.
SOUL SCALPING
Megan Rose mentions Soul Scalping – which to me sounds rather synonymous with Soul Harvesting but correct me if I'm wrong – in her november 2021 book 'Welcome to the Future' (3):
" … As mentioned previously, impersonating Terran leaders is a process that is often done by soul scalping. Removing the light body or soul of an individual and replacing the physical vessel with an extraterrestrial presence using technology…Once the human or Terran soul has been removed from its original physical vessel, it is placed in a little box and lives a simultaneous reality for an unprecedented amount of time, in other words, unless rescued, the soul is stuck forever, living in a fictitious scenario, like a dream.
Often, the person who is a victim to this practice is considered property of the deep state, what we call the cabal, and their personal free will has long been relinquished. Once contracted to work for the corrupt Terran government, they are obligated to oblige by the rules of the institution. To inhabit a Terran vessel, the extraterrestrials install a technology into the brain, specifically the cerebral cortex, where the vessel can be operated remotely." (3, pp. 72-73)
Then there is a quote by Val Nek (4) on the dismantlement of these practices:
"Once their force was greatly weakened, we recovered the list of Terran leaders that were being impersonated, the list was quite long. High ranking officials in the Federation, including myself, were given this information to execute arrests and recover the Terran vessels. Many of these vessels were operated in the headquarters of the Central Intelligence Agency. Once prepared, the Federation had a duty to invade and dismantle these remote operating systems and remove extraterrestrial control of this government agency" (5, p.73)
A lot more is written about these practices in her book, together with al lot of other groundbreaking information. Consider buying her book.
THOR HAN ON SOUL SCALPING
In a relatively older video (april 2020), Elena Danaan lets Thor Han speak directly through her (7). On soul scalping we can hear the following:
"The Ciakahrr already helped the reptilians a lot [with] abducting people, especially people in key positions and replacing them. They capture the souls, what you call the souls, the light body the body of light, the etheric body, the immortal body that is not damageable. They separate it from the body. They put the etheric body in a pod because they don't know what to do with it. They use the substance for different things but this is another topic.
In the envelope the soul of visitor Ciakahrr (probably all the time) is put and the being created so goes back into the terran life, but now it is a different being. It is a Ciakahrr with the envelope. So this woman is somewhere in a ship in an underground, and her body is used by another being.
It is not always happening like this. Sometimes you have real Ciakahrr, real Nagas shape-shifting and taking positions. Some people want to talk – they are killed or silenced. Some people want to flee. They are cold. The best way they do is to silence, they do that very well.
They break the soul, they break the will, they break people. In the entertainment field you have many of them. But as well you have terrans who have sold their souls to the Ciakahrrs in exchange of fame, in exchange of power. They have accepted to give a parcel of their soul in exchange of fame and power, and then they are at service of the Ciakahrrs. They give them suffering, fear, they are drugged with substances, they become addicted to these substances. It's a very dark story, you know. I'm watching the data sometimes. My colleagues are talking about it. But all this is nearly touching an end. Your governments allied with the federation are just making a big cleansing and you know." (7, 14′ – 17′)
LINKS
(1) Part 2 – Cabal leaders go to Antarctica to surrender to Extraterrestrials & Earth Alliance – It has become obvious that the Cabal refused the offer that was given to them by the Intergalactic Federation and the other groups present. They were going for the ultimate clash.
(2) Oona is the representative of the Intergalactic Confederation
(3) Rose, M. (2021) Welcome to the Future. Amazon Press.
(4) Epsilon Eridani and Val Nek
(5) The Killy Tokurt from Suhail (Vela)
(6) Wall up Net
(7) Extraterrestrial Contacts (april 16, 2020)
(8) The image was drawn by Walter Molino, an Italian comics artist and illustrator. It featured on the front page of a 1962 edition of La Domenica del Corriere, an Italian weekly newspaper which ran from 1899 to 1989. – Source of 'Pod People'
The speed with which Dr. Michael Salla continues to produce fascinating articles is nearly unbelievable. On the first day of a year in which hopefully the Deep State/Cabal will be removed from our planet forever (1), he published an article in which JP handed over the exact coordinates of a 'ruin' or a building with the size of 830 meters (some 2500 feet)(2)
In that particular article you can read about the possibility that the construction that is found at those particular coordinates would contain a portal. Let's read along:
"According to JP, the US military is working inside several buildings at the ruins, one of which contains a 'stargate' or a 'portal' that enables instantaneous travel in our solar system. This is JP's skype message to me about the ruins:
These are the ruins where everybody meets up. He is one of the officers. I only saw him once in the rooms that we do the meetings. Came up to me and said to share the information. He works in the building where the gates are that takes you to different places in our solar system. [12/26/2021].
Significantly, the USAF Lt Col is said to work in the building where the portal/gate is located. An estimate of the ruin's size, using Google Earth, is roughly 2500 feet (about 830 meters)." (2)
Oona, a representative of the Intergalactic Confederation (4) has probably alluded to this particular portal which could be used to move the Cabal to a place in another Galaxy, after they have given up their codes and frequencies that they have used to suppress humanity. In (1) a message was relayed to Elena Danaan. she said:
"Antarctica is the meeting place because the portal can take them when the moment is here. They will give us the keys [to] unlock their rituals and cast the dark circles, the nine levels of darkness will be collapsed as one and dispersed into dust. It is over. The dust will be scattered to the four winds of human consciousness liberated."
LINKS
(1) Part 2 – Cabal leaders go to Antarctica to surrender to Extraterrestrials & Earth Alliance
(2) USAF Colonel leaks coordinates of ancient Antarctic Ruins
(3) Image found at Artstation
(4) The Intergalactic Federation
In a video-interview between Dr. Michael Salla and Alex Collier (November 21, 2021) we can hear about the possibility that the Deep State in a way has already lost. Alex Collier explains the details on what would already be happening. It would be up to us to see through the 'evil agendas'.
Here is a transcript of what Alex Collier said from 17'40" onwards:
"Technically they have already lost. We are just literally playing out all the agendas that they had put into motion. As these agendas become uncovered of what their true intent was and everybody sees it for what it really was, it falls away it just goes away, because no one is using in their consciousness, or intention or emotion eating any more of that agenda. We're like, no, we are not doing this and it goes away.
That is one of the tricks that they used against us. They realized that on an energetic level, in a consciousness level we are creators, we are big time creators, and if we focus on something that is where the energy goes and all they had to do was to keep us focused on an agenda and even though we didn't realize what it was as long as we believed it was true it would take us there and and we would create it and manifest it physically.
And all they had to do was to sit there and wait for it to physically manifest and then take control of that and then they would control us with those agendas. As we start to wake up and we begin to see what all these agendas were all about and the true intent, which was to control and manipulate humanity,
And we withdraw our energy and our consciousness and our focus on it, It will collapse because, all by itself, because we are no longer feeding it. And now what is happening is that we are turning our focus away from all of that and really for the first time we are thinking about creating a reality that we want, something that is genuine and something that is fully integrated with not only the god presence, but with the rest of the universe and the galaxy. On an intuitive level we know these answers because, Michael, there is not a single soul on this planet that was born and hatched here. We have all come from some other place. We all have cellular memories of other existences and other realities (1)"
Another article that came into existence due to this interview can be found at (2). Imagine that not only would the Deep State have lost its alien support (3), but they would be playing a losing game here as well, since humanity would actually be able to see through their agendas and simple stop supporting it with their intent and their focus. Let's just hope we manage to end their schemes as soon as possible.
NOTES
(1) Alex Collier on the Andromeda Council and Human Liberation
(2) We are a Race of Avatars
(3) The Deep State would have lost its Alien Support Completely
Now it would be up to us, to finally make our own decisions, without the incessant manipulations by the mind-control techniques which would have been installed by certain alien groups. More on this to come.
Recommended reading:
https://exopolitics.org/secret-underground-war-reaches-its-final-countdown/
Multiple 'Galactic Federations' are Intervening in Human Affairs?
Be current, Be aware. Receive notificactions when new content is available.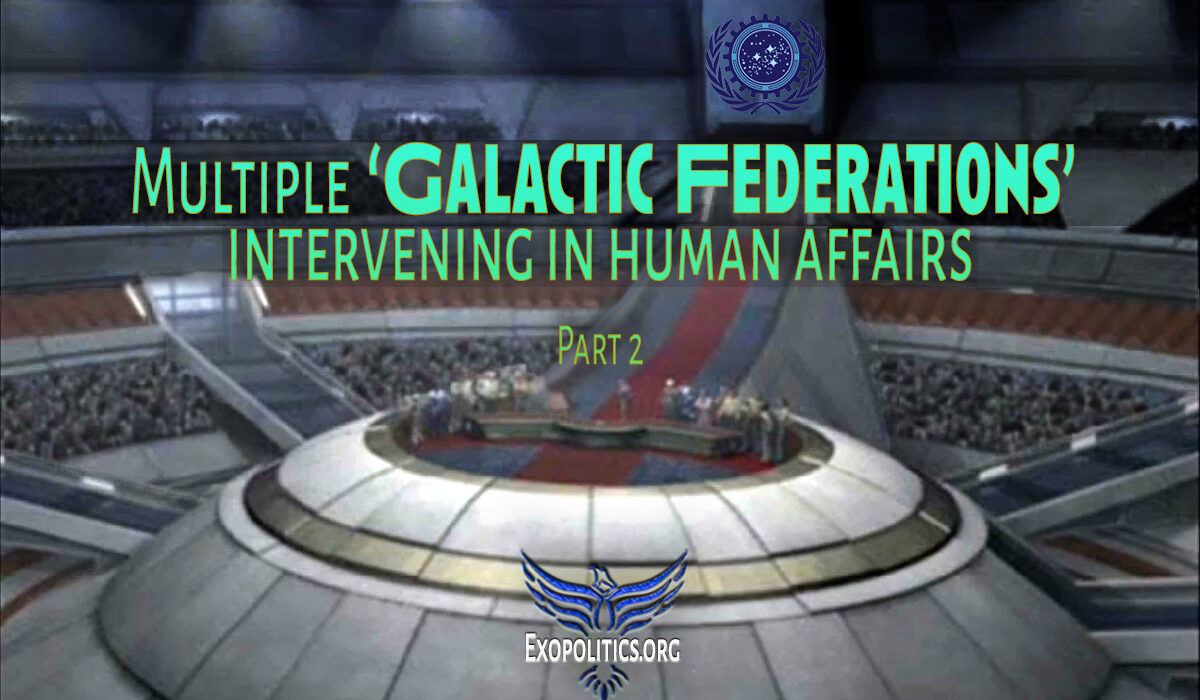 Multiple 'Galactic Federations' are Intervening in Human Affairs
WRITTEN BY DR MICHAEL SALLA ON JUNE 29, 2021. POSTED IN FEATURED, GALACTIC DIPLOMACY
In part one of this series, I discussed remote viewing sessions conducted by the Farsight Institute on the 'Galactic Federation of Worlds', which has allegedly been intervening on Earth from remote antiquity and even played a role in the genetic engineering of humanity. When examining the work of multiple insiders and 'contactees', however, it becomes clear that there is more than one association of human-like interplanetary civilizations using names similar to or adaptions of 'Galactic Federation'.
For example, in his 1958 Book, The Council of Seven Lights, George Van Tassel talked about the "Adamic Confederation" of space brothers landing on Earth at the dawn of history and mating with the "race of Eve" (primitive humans). In his 1974 book, The Invitation, Peruvian contactee Sixto Paz Wells also spoke about a large interplanetary association called the 'Confederation' that was helping humanity's evolution.
In 1981, the famous Law of One channeling introduced two main extraterrestrial factions that have historically intervened in human evolution. These were named the 'Confederation of Planets' and 'Orion Crusaders' by the extraterrestrial group calling itself the Ra Social Memory Complex that belonged to the former.
The Confederation and Orion Crusaders were respectively positive and negative in ethical orientation and attitudes towards human evolution, in ways that are very similar to what the Farsight remote viewers had to say, respectively, about the 'Galactic Federation of Worlds' and the Orion Alliance.
Among the first to publicly discuss three or more rival extraterrestrial interplanetary alliances involved in humanity's creation and/or vying over human affairs ever since was the contactee, Alex Collier, who publicly emerged around 1991 with lectures about his experiences with a human-looking alliance of extraterrestrials called the Andromeda Council. He said it comprised 139 different star systems, and it had become interested in Earth due to the Andromedans detection of a galactic tyranny 350 years in the future that could be traced to the Earth, Moon, and Mars in the present era.
In his lectures, some of which were compiled in the book Defending Sacred Ground, he described the different extraterrestrial groups that had established a presence on Earth. These included the Draconian (Ciakharr) Empire, a group from the Orion constellation (Grays and Humans), a "Galactic Commonwealth" made up of developing human civilizations, and the Andromeda Council. These are similar negative extraterrestrial groups to those Dr. Brown's remote viewing team had identified: Draco Reptilians, Grays, and beings from Orion.
Some members of the Galactic Federation, according to Collier, played a role in the genetic engineering of humanity and have ever since been interested in human affairs. Other Federation (aka Commonwealth) members, however, have played no role in human history and have little interest in Earth. Due to time travel technology, however, the Federation can insert their operatives or intervene far into humanity's past to influence contemporary events to prevent future galactic tyranny.
When seen in the context of the Draco and Orion groups also intervening in human affairs, it becomes clear that current events on Earth are part of a temporal war between the three main extraterrestrial alliances over our destiny.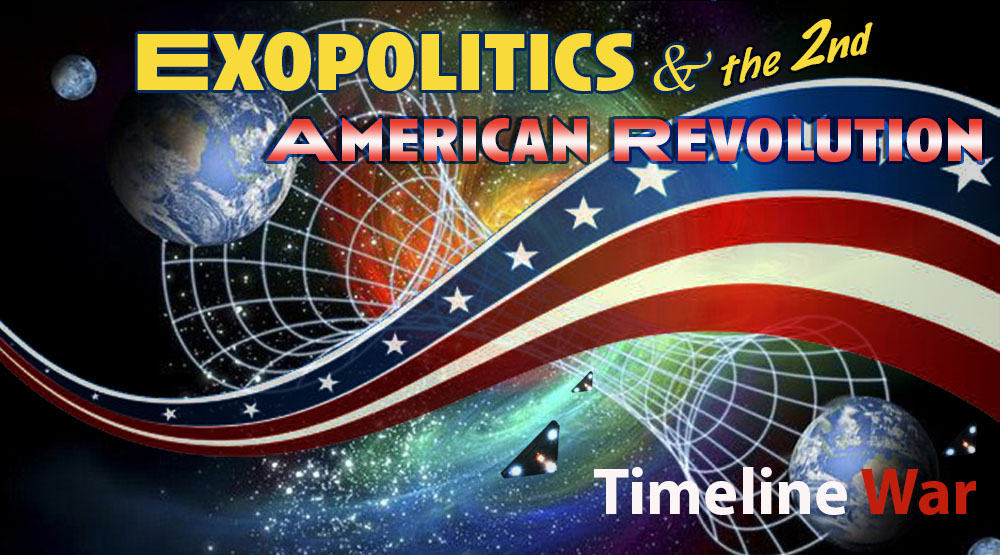 Overall, Collier spoke about 22 extraterrestrial civilizations that had genetically intervened in human affairs, and were responsible for the different racial and ethnic groups on Earth, which is not the norm in our galaxy. These 22 groups appeared to be drawn from mostly human-looking races from the three competing extraterrestrial alliances—not just members of the Galactic Federation.
Other notable individuals with relevant information about different interplanetary associations include the whistleblower, Dr. Michael Kruvant Wolf. In the late 1990s, Wolf gave interviews to several notable UFO researchers such as Paola Harris and Dr. Richard Boylan after the publication of his book, The Catchers of Heaven (1996).
Here is a summary of the three main extraterrestrial alliances that Wolf had revealed in his interviews and book:
The MAJESTIC-12 organization was aware of all three MAJOR confederation groups,
the joint humanoid-reptiloid CORPORATE/ALLIANCE
the mostly humanoid FEDERATION OF WORLDS or FOW
the mostly reptiloid UNIFIED RACES OF ORION or URO
The "mostly humanoid Federation of Worlds" corresponds with the "Galactic Federation of Worlds" that Dr. Brown and his remote viewing team were focusing on. The other two groups comprised a significant Reptilian element in their composition. These roughly equate to the Draconian (Reptilian) Empire and Orion Alliance that the Farsight Institute remote viewers were referring to.
In 2015, Corey Goode began to speak of a "Super Federation" comprising between 40-60 extraterrestrial civilizations in charge of up to 22 genetic experiments on Earth. In a Q and A, Goode distinguished between the Super Federation and Galactic Federation:
Q2 How is the Galactic Federation different to the Super Federation?
The Super Federation is made up of 4th-5th Density beings that comprise the "Genetic Farmer" races as well as civilizations that were products of the "grand experiment" that advanced to the point of becoming a part of the group doing the experiments. We are supposed to be graduating to this same point very soon. The Galactic Federation, as stated above, is more responsible for maintaining this Universe/Reality for the One Infinite Creator and exist within what we would consider Other Density or even an Angelic realm. One of the messages I got from the SBA [Sphere Being Alliance] was, "We are the messengers and facilitators of the One Infinite Creator".
When it came to the relationship between the Sphere Being Alliance and the Galactic Federation, this is what Goode explained in a Q & A:
Q1 What is the Galactic Federation? Who are its members?
I have referenced it as the Galactic Federation, through Tear Eir [Goode's primary ET contact], while the Anshar [an inner Earth civilization] are calling it the "Galactic Confederation". The members are highly spiritually and technologically advanced (6th + Density) civilizations that cooperate to facilitate both cosmic law and the various cosmic cycles. The members of the Sphere Being Alliance (Guardians) are members of this Federation.
Clearly, there was an important difference between the 'Galactic Federation' (aka Confederation) and the 'Super Federation' managing Earth's 22 genetic experiments. In order to avoid confusion and maintain consistency with earlier sources such as George Van Tassel, the Law of One Material, and Sixto Paz Wells, I will use the term "Galactic Confederation" to denote this higher density advisory body.
While the Galactic Confederation operated as a higher density overseer to maintain "cosmic law", the Super Federation were direct stakeholders in Earth affairs, having distinct agendas and were rivals that would experience conflicts among themselves and/or with the Draconian and Orion groups.
Consequently, the Galactic Confederation could act as an arbiter of disputes between Super Federation members that were genetically engineering humanity or step in if a violation of cosmic law was happening. This is consistent with Collier's claim that the Andromeda Council (a 6th + density association) advised the "Galactic Commonwealth" (aka Confederation) of a future galactic tyranny.
In 2018, Goode described a major breakthrough insofar as the Super Federation decided to take a step back and allow humanity to determine its own destiny due to intervention by the 6-9th density Sphere Being Alliance/Galactic (Con)federation.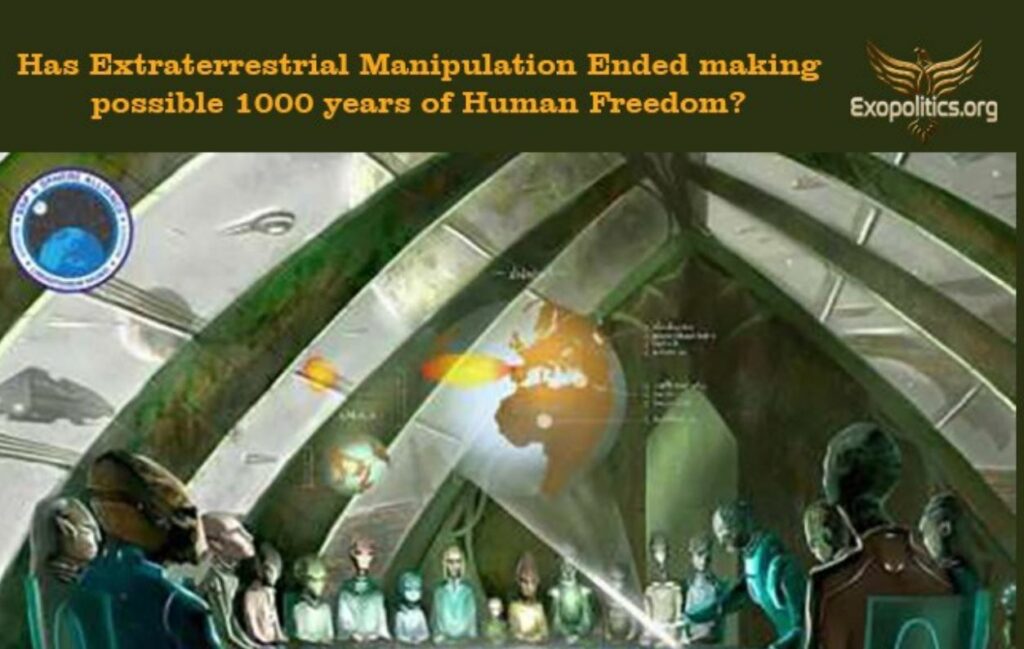 In response to Professor Haim's 2020 groundbreaking revelations on the Galactic Federation, Goode reiterated that there are multiple federation groups interested in human affairs, and again emphasizing that the 'Super Federation' comprising many Nordic extraterrestrial groups is a local deliberative body that is distinct from the higher density 'Galactic Confederation' to which the Sphere Being Alliance belonged.
Goode elaborated further on these different groups in a December 2020 interview:
You hear "Galactic Federation" a lot. Well, that could apply to many different groups, like, you know, the Sphere Being Alliance. They're a part of this, like, a galactic watcher kind of group that are overwatching higher-density realms and also looking after the lower-density realms to make sure everything's being done according to Cosmic Law. These are like 6th, 7th density beings—very evolved beings.
And then you go down to 4th and 5th density beings and those include anything from the Reptilians to these tall Nordic races, different types of beings that we lump into what we call the "Grays".
There's a whole assortment of these other types of beings . . . Insectoids are extremely into genetics. That's. . . All of their technology is genetic manipulation. And even the ships they fly in.
And they're a part of these little federations together. They work with Reptilians sometimes and they have agreements of convenience as well, because some of them have genetic spiritual timeline agendas that conflict with other people in this Super Federation.
cid:frame-288847E254C68DE25B1595BDDE5A3AFD@mhtml.blink
This leads to the question of whether the "Galactic Federation of Worlds" that Brown's Farsight group remote viewed was part of this higher density oversight group that Goode's Sphere Being Alliance belonged to—the 'Galactic Confederation'—or one of the other federations that are in conflict with rival associations such as the Draconian Empire or Orion Collective.
It appears clear from the remote viewing sessions that the Galactic Federation of Worlds is a direct party in ongoing conflicts with the Draco and Orion groups, rather than an oversight group applying cosmic law as an impartial arbiter. The Galactic Federation of Worlds conducts military operations, has space fleets battling against the Reptilians/Orions, has undercover operators infiltrating into human society, etc.
The Galactic Federation of Worlds operations described by the Farsight Institute are very similar to what has also been recently revealed by the French contactee and former professional archeologist Elena Danaan. She has publicly released her communications with four individual representatives of the Galactic Federation of Worlds that date from 2018, which is the time she says she was activated and decided to commit herself full-time to her new career.
Significantly, she described a recent decision by the Galactic Federation of Worlds to increase their military operations and interventions on Earth, and nearby celestial bodies such as the Moon and Mars, and support indigenous resistance efforts against Draco and Orion control.
cid:frame-735304899318FB4BDBDFEF88006E17D1@mhtml.blink
This is consistent with Collier's earlier observations about the Andromeda Council contacting the Galactic Confederation to preempt the Earth becoming the epicenter for a future galactic tyranny. Furthermore, this is also consistent with what Brown's remote viewing team had observed back in February 2021 and suggests that the Galactic Federation of Worlds has taken a very recent decision to intervene in human affairs more vigorously.
It's worth emphasizing that the Galactic Federation of Worlds appears to be a more activist organization to the higher density "Galactic Confederation" that Goode said the Sphere Being Alliance belonged to and whose recent activities he has described in detail since 2014. While there are some similarities between the Sphere Being Alliance/Galactic Confederation operations described by Goode with what Farsight and Danaan have claimed about the Galactic Federation of Worlds, there are also significant differences.
This suggests that the Galactic Federation of Worlds is working with or under the guidance of the Galactic Confederation in upholding cosmic law when it comes to the future of humanity. This very likely occurs through highly evolved extraterrestrial members such as the Andromedans and Arcturians, who are members of both groups. It's worth recalling that Edgar Cayce, the famous American psychic, viewed the Arcturians as among the most highly evolved civilizations in our galaxy, as I describe in my 2013 book, Galactic Diplomacy.